Usually, winters are all about warm and dark colours complementing the feel of the cold weather. We wish to be wrapped in our warm browns, blues and blacks. Most of our winter wardrobe comprises of dark hues because darker colours or dull ones are associated with a bit of warmth in comparison with other colours. So even in the markets, you will find most winter apparel to be of dark, warm shades. And since the arrival of winters in Pakistan and many other parts of the world, the latest collections for this icy cold weather are flooding the market which has resulted in tons of competition for old, established brands as well as new entrants.
Every brand out there will be lining up to give the customers a taste of what their latest collection has in store for them. This also creates and promotes a healthy competition among the competitors in the market, especially when each brand is trying their best to introduce the latest trends in competitively high-quality fabrics and materials. So, whether its the arrival of winter season or any of the remaining three, the fashion and textile market get filled with the newest trends for women, men and kids which makes it extremely exciting for all shopaholics out of which a winning majority is undoubted of women no matter what age and ethnicity.
---
Nishat Linen Ready To Wear Winter Dresses 2018 With Prices
---
Shopping is one language that speaks to all. Fashions take a longer time to change or shift while trends change every other season and this season is no stranger to the newest trends in the market. And a good news for all those shopaholic women out there starts with the brand itself, the famous Nishat. This season, Nishat Linen new pret wear winter collection 2019 brings to you all that you are looking for and definitely will find now in their latest collection. This collection comprises of a bit of semi-formal wear mixed with a hint of casuals that are perfect for both party wear, evening functions and even a few formal to semi-formal events depending upon the occasion itself and of course, your personal style.
The brand Nishat is famous for introducing innovative and trend-setting designs in Pakistan and it would not be surprising if they were to go global. Though, the internet, their website and their online web store has made it possible for anyone to order their products from all over the world which also adds a larger target market to their clientele. And one of the best things about designs by Nishat is that they are a clever mix of eastern and western clothing, having tradition and modernity going side by side. This allows them to successfully attract a high customer size.
---
Latest Arrivals of Nishat Linen Collection
---
This year's winter collection is all about vibrant yet soothing shades and hues that go brilliantly well with the weather. It has made use of warmer fabrics like fine cotton, linen and cambric in this line. Scroll down and see some of the amazing prints by Nishat Linen latest winter collection for women!!
Look chic and stylish with this denim styled shirt by Nishat. You can wear it with straight jeans or bell bottom jeans on casual days if you are heading towards your workplace or your university.
This adorable shirt has intricate embroidery on the neck with light Grey colour which is adding a lot of life and colour to the digital printed background. It looks best when worn with bell bottom trousers or flared pants.
Brighten up your winters with this colourful shirt. It has vintage styled digital designs on it making it all girly and fun to wear. You can wear it on casual days with either jeans or trousers.
This colourful and comfy shirt by Nishat is perfect for days where you want to keep it all simple yet graceful. It has intricate designs on it making it totally adorable.
Dressing in winters has never been this exciting. Look all funky and colourful in this digital printed pret wear by Nishat. You can pair it up with black flared pants.
This trendy and stunning floral shirt is a must have this winter. You can pair it up with either jeans or white trousers. The bright floral designs are eye-catching making it perfect for any hangout with family or friends.
Give your fashion sense a new direction with this classic and trendy shirt. The minimalist and pastel-coloured patterns are attractive. You can wear it with straight pants.
This pastel coloured digital pret wear by Nishat looks stylish. You can wear it on occasions like formal gatherings or parties. This look does not require much effort. Just grab this beautiful piece by Nishat and pair it up with straight white trousers and you are ready to go.
This timeless combination of black and white looks best in winter. Whether you are going out with your friends or you have an important meeting at your workplace, you can wear this shirt with black bell bottom pants and rock this look.
Tired of same boring colours all day every day? Bring a pop of colour to your wardrobe with this beautiful shirt. Bright and deep red roses are complementing the black background. You can wear it with black bell bottom trousers.
Look good, Feel good in this digitally printed shirt by Nishat. Its pastel colours and floral patterns look really attractive. You can wear it when going out with friends.
This short A-line shirt looks flattering from every angle. It has geometrical designs all over it with floral embroidery making it really elegant and sophisticated.
Whether it's summers or winters, Red never goes out of fashion. This red coloured shirt looks totally breathtaking. It has beautiful and charming designs on the border. You can wear it with rust straight trousers or tights.
Light up your look in this beautiful shirt by Nishat that has an amalgam of colours in it. The polka dots paired with huge floral patterns looks heavenly and is a must have this winter.
Confused on what to wear in any formal gathering? Here is the solution to your problem. This white coloured shirt can never go wrong. With its antique and vintage prints on the border, this pret wear can be your saviour.
This beautiful and eye soothing fresh lime coloured pret has huge motifs on it making it all perfect to wear on casual days.
This bright pink shirt is both comfortable and stylish. The bright lime coloured border on the hem and neck is adding a pop of colour to it. You can wear it with straight trousers.
Find your perfect style with this white pret wear that has bold and huge designs on it making it perfect to wear when you are hanging out with your friends. Pair it up with skin bell bottom pants.
---
Quick View for Nishat Ready to wear
---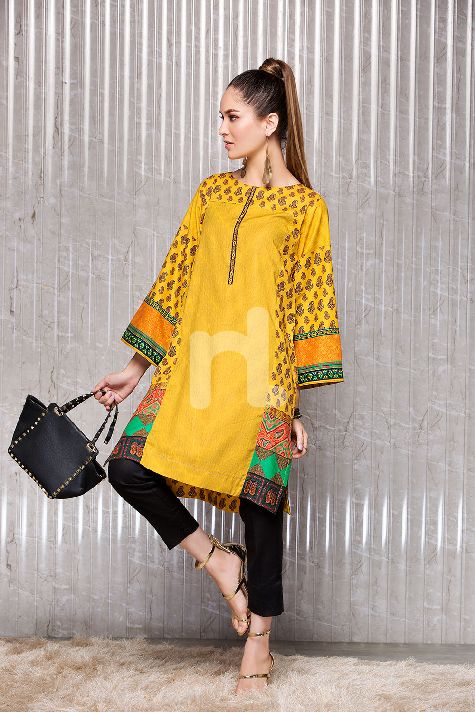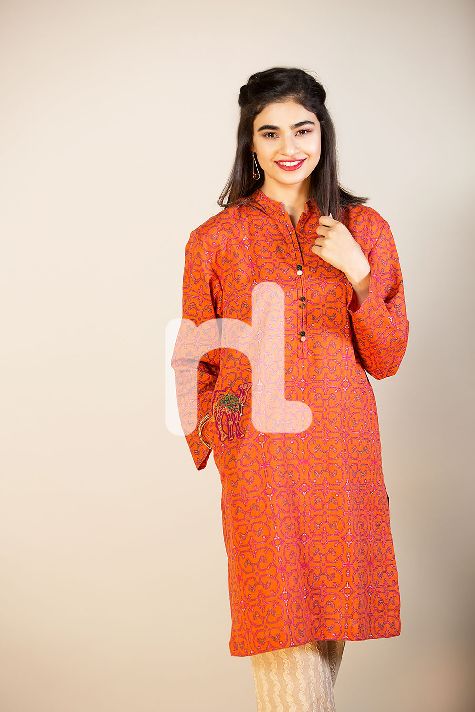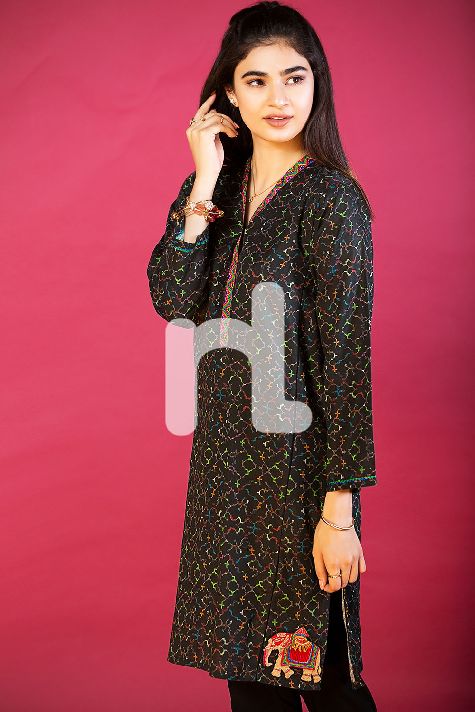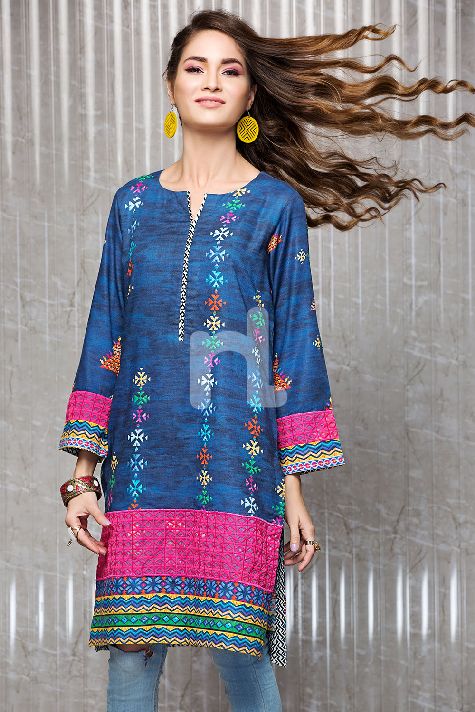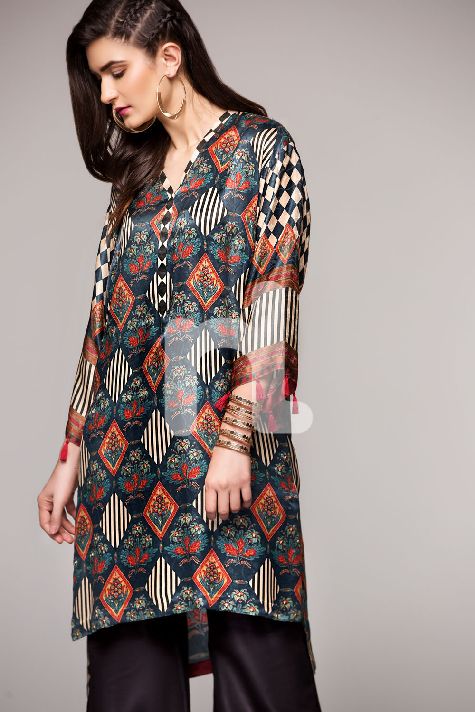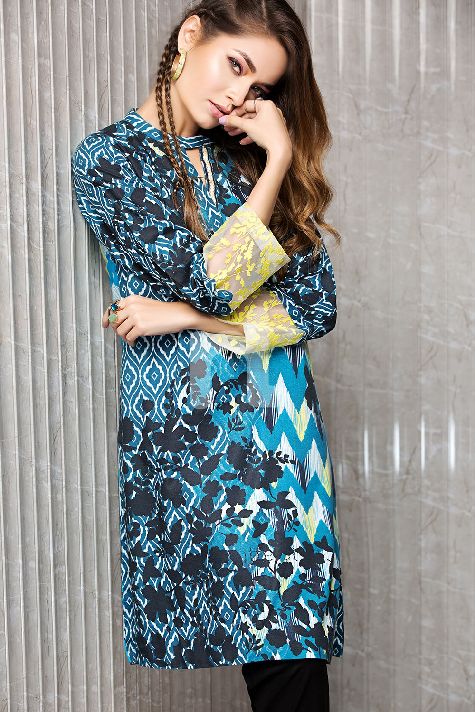 ---
Nishat Linen Unstitched Winter Collection
---
You may have come across above pret wear and now we are showcasing few glimpse of unstitched winter collection as well. Yep, this is true NL is all set to mesmerize you through stunning designs and colour combinations. If you people haven't tried out these designs then what are you waiting for? Ladies are heading over to outlets for grabbing highest quality prints in town. Nishat linen has got the foothold not only in pret wear but they have done best in the unstitched department as well. Check out the below designs and get ready to grab your favourite piece 🙂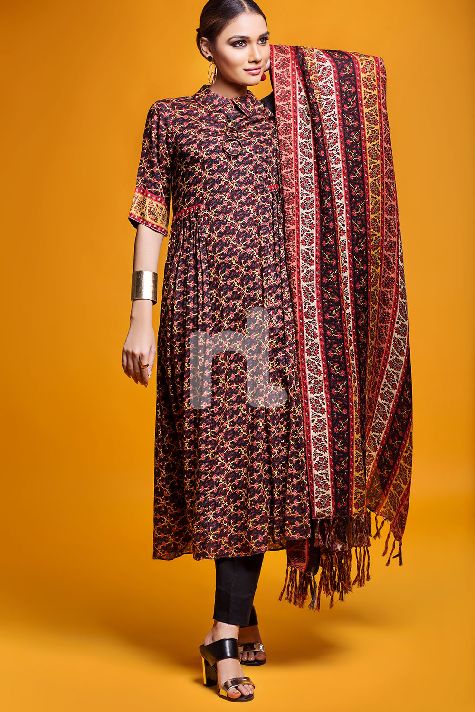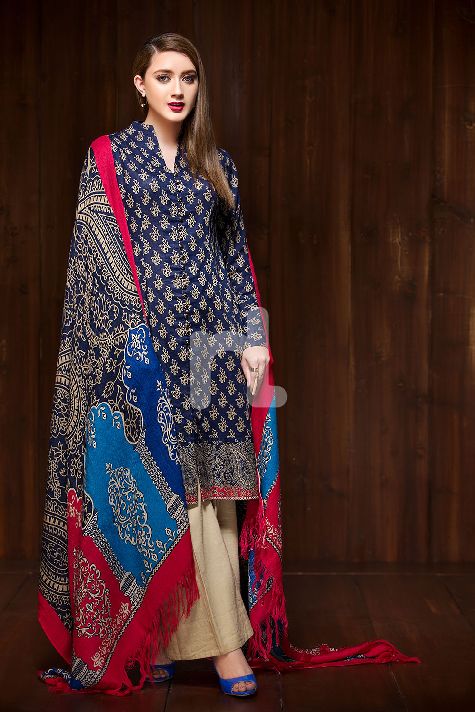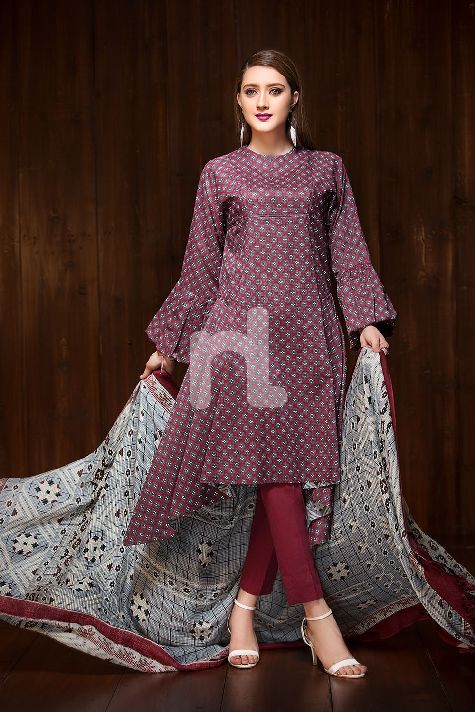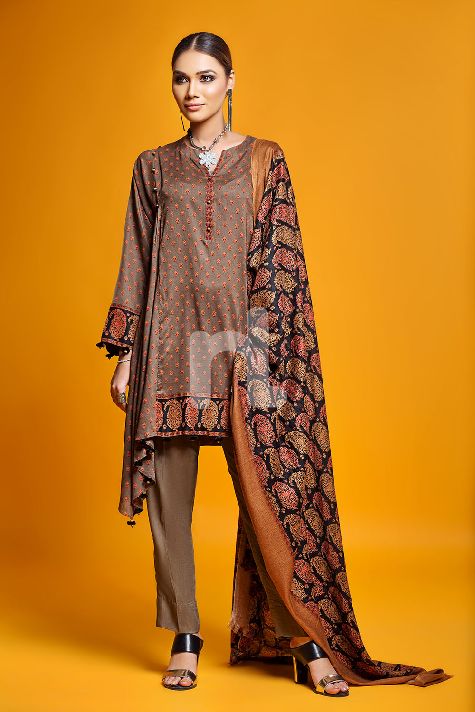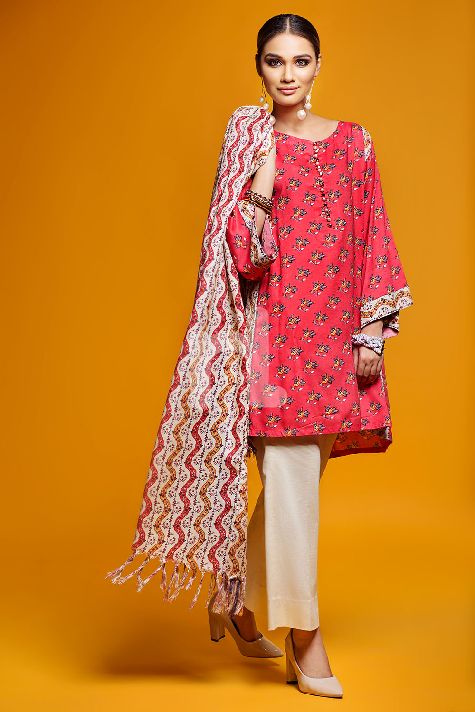 Nishat Linen has once again won the heart of their customers by bringing something best of the best in terms of quality and designs. Their unique and innovative designs have attracted women of all ages. We can see they have played well with the digital prints and have brought something classic and stylish. So, this winter, fill your wardrobe with these beautiful dresses by Nishat Linen pret wear winter collection 2019. Happy Shopping!! 🙂
Also, Check Out: