Blue is a serene, calming color that works beautifully in bathrooms. With so many shades of blue paint to choose from, it can be tricky to select the right hue for your space. This article reviews 25 stunning blue paint colors for bathrooms and provides tips on how to pick the perfect blue paint for your bathroom walls or accents.
Benefits of Blue Paint in Bathrooms
There are many reasons to consider blue paint for your bathroom:
Relaxing ambiance – Light and soft blue hues create a soothing, spa-like feel in the bathroom. This makes it a wonderful color for self-care and relaxation.
Clean look – Crisp shades of blue evoke a clean, fresh aesthetic. This helps bathrooms feel open and hygienic.
Versatility – Blue works with almost any color scheme and style, from modern to traditional to beachy.
Reflective properties – Light blue paint brings a sense of brightness and space to small bathrooms. It bounces light around the room.
So if you want your bathroom to feel tranquil, clean, and bright, blue paint is an excellent option. The key is finding the right shade of blue for your space.
Factors to Consider When Choosing Blue Paint Colors
With so many blue paint options out there, it can be daunting to select just one. Here are some factors to keep in mind when evaluating blue paint colors for your bathroom:
Bathroom Size
Small bathrooms look best with light or bright blue hues, like powder blue or sky blue, to open up the space.
Medium to large bathrooms can handle deeper shades of blue without appearing too dark or overpowering.
Natural vs. Artificial Lighting
Bathrooms with good natural light can work with almost any shade of blue. The natural light keeps the space bright.
Bathrooms with no windows and artificial lighting only should stick to light or mid-tone blues so the room doesn't feel too dark and dreary.
Personal Style & Decor
Choose a blue that complements your style. For modern bathrooms, vivid blues are striking. For traditional, softened blue-grays work well.
Make sure the shade of blue works with other colors and finishes in the bathroom, like tile, fixtures, and textiles.
Mood You Want to Set
Light and bright blues create an invigorating vibe, while darker blues set a relaxing mood. Select a shade that matches the ambiance you want.
Keeping these factors in mind will help you pick a blue paint color that works perfectly in your unique bathroom space.
25 Light Blue Paint Colors for Bathrooms
Pale Light Blue Bathroom Paint Colors
Benjamin Moore Quiet Moments (1563)
This extremely pale blue is nearly white with just a whisper of blue. It's reminiscent of still, serene pools of milky aqua water. The soft hue provides a clean backdrop and makes small bathrooms feel more expansive.
Benjamin Moore Sea Foam (2123-60)
This greenish-tinged pale blue beautifully captures the look of frothy sea foam on the ocean's surface. The soothing sea glass hue pairs nicely with white trim and feels endlessly refreshing.
Sherwin-Williams Watery (SW 6478)
A crisp, transparent pale cerulean blue that mimics the pure clear color of water. This cool tone feels cleansing and provides a pristine backdrop for white bath fixtures.
Benjamin Moore Misty Blue (820)

As the name depicts, this is a hazy, ethereal shade of blue reminiscent of mist hovering over the ocean on a quiet morning. The calming color evokes feelings of tranquility.
Soft Light Blue Bathroom Paint Colors
Sherwin-Williams Rainwashed (SW 6211)
With gray undertones, this beautiful blue mimics the color of clear skies after a refreshing spring rain shower. It feels bright and revitalizing.
Benjamin Moore Beach Glass (1564)
A perfectly understated aqua that looks like sea glass polished smooth by the tides. This serene muted blue infuses bathrooms with a relaxed, coastal vibe.
Sherwin-Williams Sea Salt (SW 6204)
This invigorating blue-green blend brings to mind the sights and scents of ocean breezes. Crisp yet soothing, it pairs well with white and feels eternally refreshing.
Benjamin Moore Palladian Blue (HC-144)
A subtle neutral blue with hints of graygreen, this is reminiscent of robin's egg blue. It provides a soft, relaxing color perfect for spa-like bathrooms.
Sherwin-Williams Riverway SW 6222
As the apt name suggests, this is a beautiful relaxing sky blue. It conjures images of clear blue sunny skies and creates a soothing, peaceful ambiance.
Muted Light Blue Bathroom Paint Colors
Benjamin Moore Buxton Blue (HC-149)
A warm, inviting blue with strong taupe-gray undertones. This soft calming neutral blue provides a gentle backdrop that welcomes relaxation.
Sherwin-Williams Tradewind (SW 6218)
With hints of gray, green and blue blended together, this complex tone has lots of dimension. The muted look has timeworn appeal.
Benjamin Moore Heavenly Blue (709)
A restorative zen blue with hints of green that remind you of the ocean. This breezy, relaxed hue will make your bathroom feel like a spa.
Sherwin-Williams Sleepy Blue (SW 6225)
A relaxing blue-gray with hints of violet, this aptly named color evokes feelings of sleepy tranquility. It creates a calming backdrop.
Benjamin Moore White Satin (2067-70)
Don't let the name fool you – this soft, subtle tone is actually a very understated blue. Barely there yet still luminous.
Bright Light Blue Bathroom Paint Colors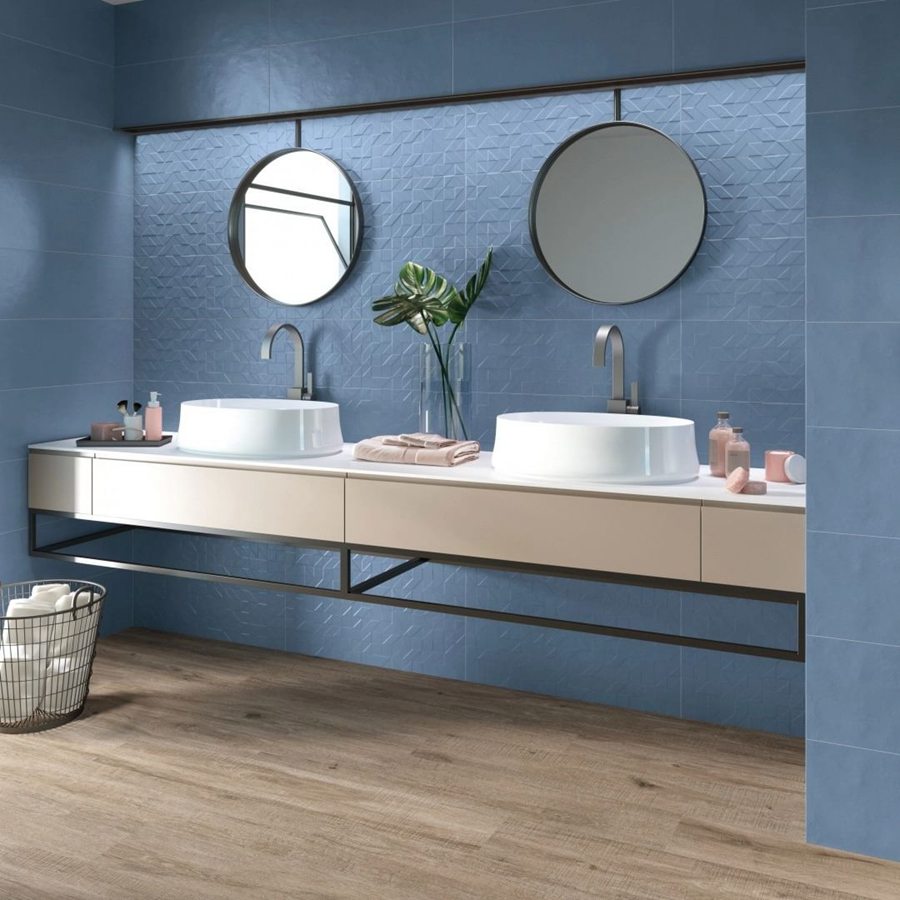 Sherwin-Williams Blue Sky (SW 0063)
This clean, bright sky blue paint conjures images of cheerful sunny days. It's crisp and vivid, perfect for awakening your senses in the morning.
Benjamin Moore Sky Blue (2048-70)
A true sky blue, this crisp cool hue mimics the most perfect clear April day. Use it to add an energizing pop of color to your bathroom walls.
Sherwin-Williams Raindrop (SW 6485)
With its medium cerulean blue tone and green undertones, this cheerful color adds lots of personality. Like a refreshing spring rain.
Benjamin Moore Icicle (2142-70)
Cool and frosty like an icicle glittering in the winter sun, this vivid blue paint adds a burst of energy. Use it anywhere you want to feel instantly refreshed.
Sherwin-Williams Crystal Clear (SW 6756)
Shimmering with light like rays of sunshine dancing on water, this transparent pale blue has lovely luminosity. Uplifting and bright.
Benjamin Moore Arctic Blue (2050-60)
Intense like the blue in glacier lakes, this sky blue paint color is pure, cool and bold. Makes a dramatic statement in any bathroom.
Sherwin-Williams Sky fall (SW 9049)
As clear and bright as the sky after a refreshing storm, this sweetened powder blue paint is pretty and timeless. A true classic.
Soft Aquatic Light Blue Paint Colors
Benjamin Moore Beach Glass (1564)
A soft sea glass blue that mimics the ocean's gentle waves and relaxed vibe. This is the quintessential calming aquatic hue.
Sherwin-Williams Cloudburst (SW 6487)
Reminiscent of refreshing tropical waters, this invigorating greenish-blue paint color feels bright and beachy. Like an oceanfront rainstorm.
Aqua Light Blue Bathroom Paint Colors
Benjamin Moore Breath of Fresh Air (806)
As the name implies, this cool aqua blue paint is energizing like a deep inhale of fresh ocean breeze. Minty and lively.
Tips for Selecting & Applying Blue Paint in Bathrooms
Once you've narrowed down the perfect blue paint color for your bathroom, here are some application tips to ensure it looks flawless:
Purchase a sample size – Paint a large swatch on your wall before committing to see the true color in your space. Blue paint often reads differently on a wall versus a tiny paint chip.
Prime walls first – Use an interior primer even on new drywall. This allows the paint to glide on easily for a smooth finish.
Use a gloss or semi-gloss finish – These offer moisture resistance and easy clean-up, which is useful in humid bathrooms. Satin or matte finishes work for low-humidity bathrooms.
Apply two coats – One coat of paint rarely provides complete coverage. Two coats ensures you achieve the intended color and avoids streakiness.
Use a small roller – Opt for a 4-inch paint roller rather than large rollers, which work best on bigger flat walls. The small roller helps you easily get into corners and edges.
Use painter's tape – Tape off any nearby surfaces you don't want to paint, like trim or fixtures. Remove the tape immediately after painting before the paint dries.
Following these tips will help you paint with blue like a pro! Then you can enjoy a bathroom with a relaxing oasis-like feel.
Frequently Asked Questions
What is the most popular blue for bathrooms?
Soft, light blues are the most popular for bathrooms as they create a soothing, spa-like ambiance. The most popular blue bathroom paint colors are:
Benjamin Moore Sheer
Benjamin Moore Rainstorm
Sherwin-Williams Rainwashed
Sherwin-Williams Lazy River
What blue goes well with white bathroom?
Crisp bright whites pair best with light to mid-tone blues like:
Benjamin Moore Sheer
Sherwin-Williams Lazy River
Benjamin Moore Heaven
Sherwin-Williams Raindrops
Softer off-whites coordinate nicely with relaxing shades like:
Benjamin Moore Rainstorm
Sherwin-Williams Lake Isle
Benjamin Moore Hale Navy
Should I paint my small bathroom blue?
Yes, blue is a great choice for small bathrooms! Stick with lighter blues like Benjamin Moore Rainwashed or Sheer to open up the space. Avoid darker navy blues in small bathrooms, which can make them feel closed in.
What blue matches a gray bathroom?
Beautiful blues for gray bathrooms include:
Benjamin Moore Sheer – matches light grays
Benjamin Moore Rainstorm – for mid to dark grays
Sherwin-Williams Rainwashed – soft teal for gray
Benjamin Moore Delray Dune – warm navy for gray
What paint sheen is best for bathrooms?
Eggshell or satin finishes are best for bathroom walls. They withstand moisture better than flat paints while still providing subtle color variations and hide imperfections well. Use semi-gloss paint on the trim and ceilings for durability and easy cleaning.
Bring Coastal Calm with Blue Bathroom Paint
Blue is a versatile color choice that can create everything from an airy, relaxing oasis to a bold statement bathroom. By considering the lighting, existing decor, and size of your space, you can select the perfect blue paint to transform your bathroom into a coastal-inspired retreat. So explore shades ranging from pale sky blue to dramatic navy to find your ideal hue. Just keep in mind that sampling in natural light is key. Once you see those swatches on your actual bathroom walls, you'll know you've selected the perfect blue.