Blue is renowned as one of the most popular, versatile and timeless paint colors. From misty sky blue to dramatic navy, blue offers endless shades to perfectly set the mood in any room.
Keep reading for 14 gorgeous blue paint colors, along with creative ideas and expert guidance on decorating with soothing, stimulating and elegant blue hues.
What Makes Blue Such a Universally Flattering Paint Color?
Blue is extremely versatile thanks to its vast range of shades, from the lightest sky blue to the darkest navy. Here's what makes blue one of the most beloved paint colors:
Relaxing – Cool blues are inherently calming and peaceful. Lighter shades recall serene skies and ocean waves, promoting relaxation. Using blue paint is a simple way to create a laidback, tranquil vibe.
Appetite Suppressing – Scientific studies have shown blue light can actually curb hunger. Painting the walls or dining room in blue is a clever technique to prevent overeating.
Stimulating – While lighter sky blues have a relaxing effect, brighter shades like aqua and teal can boost concentration and focus. Blue creates a mildly energizing ambiance perfect for offices.
Classic & Elegant – Deeper blues like navy and French blue feel quintessentially formal and timeless. These rich blues bring a cultured sophistication to dining and living spaces.
Masculine – Shades of blue that lack purple or green undertones convey rugged, masculine energy. Navy blue, French blue, and Prussian blue work well in bedrooms, offices, and game rooms for men.
Perfectly Complementary – Blue goes with absolutely everything. Unlike reds, yellows or oranges, shades of blue will never clash or overwhelm a space.
Now let's explore 14 beautiful blue paint colors, plus expert tips for decorating with this timeless hue.
14 Stunning Blue Paint Colors From Leading Brands
Here are the most popular and versatile blue paint colors from top brands like Benjamin Moore, Sherwin-Williams and Behr:
1. Sherwin-Williams Naval
A rich midnight blue with green undertones, perfect for creating drama and elegance in bedrooms, dining spaces, and living rooms.
2. Benjamin Moore Wythe Blue
A classic blue-gray that provides a versatile pop of color with subtle hint of blue. Works beautifully in both traditional and modern homes.
3. Sherwin-Williams Rain
A soothing, watery blue-green reminiscent of the ocean. Use this relaxing color for a serene, spa-like bathroom or bedroom.
4.Sherwin-Williams Nebulous
White
A wispy blue that conjures images of hazy, cloudless skies. Its soft, ethereal quality instantly calms and relaxes any space.
5.Sherwin-Williams Sea Salt
A breezy seafoam blue-green, reminiscent of light dancing across shallow Caribbean waters. Ideal for beachy, coastal rooms.
6. Benjamin Moore Blue Danube
A dramatic cobalt blue that makes a vibrant, energetic statement. Use sparingly unless you want to create visual impact.
7. Sherwin-Williams Rainwashed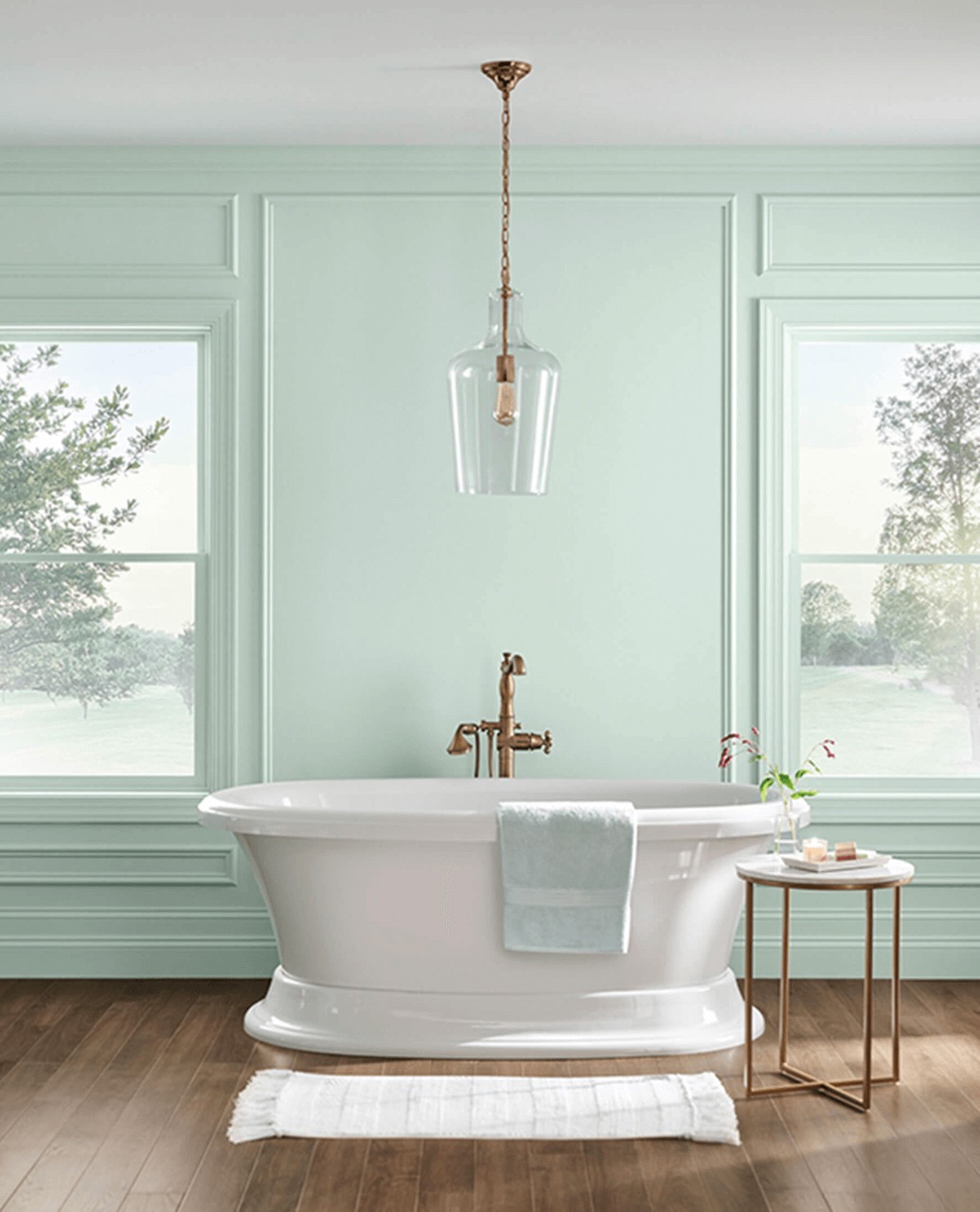 A gentle, restorative sage green-blue that conjures images of refreshing mountain streams and rivers.
8. Benjamin Moore Patriotic Blue
A true navy blue that proudly displays traditional Americana and nautical styles. Perfect for sailing and military-themed rooms.
9.Behr Nile River
Inspired by exotic Egyptian artifacts and the Nile river, this vivid blue adds an air of adventure. Use in globally-inspired spaces.
10. Benjamin Moore Blue Danube
Named after the famous waltz, this peaceful flowing blue creates openness and airiness – ideal for living rooms.
11. Behr Midnight Muse
As dark as an evening sky over the sea, this dramatic navy blue is perfect for accent walls or home theaters.
12. Benjamin Moore Admiral Blue
A patriotic navy blue alluding to naval officers' uniforms. Use in nautical, military and generally patriotic rooms.
13. Behr Blue Vortex
Reminiscent of the deep ocean, this powerful midnight blue makes a passionate statement. Use judiciously unless going for high-impact drama.
14. Benjamin Moore Deep Sea
As the name suggests, a luxe inky blue that conjures images of the mysterious ocean depths. Try in bedrooms, home theaters, and wine cellars.
Benefits of Decorating With Soothing Blue Paint
Beyond just looking attractive, blue paint offers many scientifically-proven benefits:
Lowers Blood Pressure – Being surrounded by blue light has been shown to lift mood, reduce stress, and decrease blood pressure and heart rate.
Promotes Sleep – Soft, dark blues that mimic the night sky encourage deeper, sounder sleep patterns in bedrooms.
Boosts Concentration – Lighter sky blues create a mildly stimulating environment perfect for staying focused at work.
Adds Masculine Edge – Navy blues and French blues project rugged, masculine energy without being overbearing when used judiciously.
Provides Contrast – Lighter powder blues perfectly contrast warm beiges and grays as trim and ceiling colors.
Creates Depth – The many layers and dimensions of blue prevent spaces from looking flat and one-dimensional.
Enhances Appetite – While blue curbs overeating, it paradoxically improves the flavor and enjoyment of food when used in dining room paint colors.
Clearly blue paint has benefits far beyond just aesthetics in interior design. But which rooms stand to gain the most from blue hues?
Best Rooms for Soothing Blue Paint Colors
Here are the rooms perfectly primed for relaxing and elegant blues:
Serene Bedrooms
Cool sky blues or navies, especially on the ceiling, signal the brain to release melatonin and relax. Avoid brighter shades that energize and disrupt sleep.
Spa-Like Bathrooms
Pale aqua blues bring a cleansing, aquatic feel reminiscent of tropical lagoons and refreshing raindrops.
Cheerful Kitchens
Periwinkle or sky blue adds a cheerful yet appetizing accent color on one kitchen wall or island.
Refined Dining Rooms
Classic French blues suggestive of a Parisian cafe help stimulate the appetite and enhance the dining experience.
Focused Offices
While lighter sky blues encourage concentration, darker navies promote leadership and authority.
Laidback Living Rooms
Both vibrant and muted blues strike an ideal balance between calm and energetic in family living rooms.
Inspiring Kids' Rooms
Vibrant primary blues stimulate creativity, imagination and learning in children's spaces.
In addition to full rooms, don't overlook the power of a strategically placed blue focal or accent wall. Now let's get into the fun part – decorating!
Expert Decorating Tips for Showcasing Soothing Blue Paint
When working with shades of blue, keep these expert design tips in mind:
Paint ceilings and trim crisp white to create pleasing contrast against blue walls.
Incorporate natural textures like linen, wool and wood to warm up cool blues.
Display glass bottles, jars and vases to mimic soothing water elements.
Choose metallic finishes like oil-rubbed bronze rather than cool silvers to complement blue's inherent depth.
Brighten up dark navies with energetic pops of contrasting yellow, orange or red.
Soften bold primary blues with neutral beiges, creams and light wood tones.
Pair complementary light and dark blues to create visual interest through shading.
Using Blue Creatively on a Stunning Accent Wall
Looking to add some blue without going overboard? Use it strategically on an eye-catching accent wall. Some creative ways to do this:
A relaxing sky blue or robin's egg blue wall behind the bed promotes restful sleep.
A bold cobalt or navy statement wall behind the kitchen range energizes the cook.
Light seafoam green-blue in the shower or tub area for a relaxing oasis effect.
Vibrant primary blue in a home office to stimulate focus while working.
Soft periwinkle blue reading nook to inspire imagination and contemplation.
A navy entertainment center wall to lend modern drama without darkening the whole room.
Now that you have some accent wall inspiration, let's explore classic blue color schemes.
Soothing Color Combinations For Blue Paint
While versatile blue complements practically any color, these are some of the most popular and pleasing schemes:
Crisp White
White trim, crown molding, furniture and accents make blue walls pop. A foolproof combination.
Warm Neutrals
Earthy beiges, taupes, tans, sand colors and light wood soften bold blues with natural charm.
Shades of Green
Different aqua blues and seafoam greens create a serene, tropical underwater mood.
Chocolate Brown
Rich chocolate wood stain grounds bright or navy blues with cozy, earthy appeal.
Sunny Yellow
Punches of energizing yellows provide striking contrast against darker inky blues.
Metallic Gold
The brightness of shiny gold hardware and lighting fixtures enhances blue's luxuriousness.
Choosing the Perfect Soothing or Stimulating Blue Paint Color
With thousands of blue hues available, it can be daunting to pick the perfect one. Keep these tips in mind:
Room Size – Dark bold blues suit spacious rooms, while light blues create an airy feel in small rooms.
Natural Lighting – Darker blues work wonderfully in bright sunny rooms, while pale blues illuminate dimly-lit rooms.
Room Purpose – Opt for stimulating bright blues in a home office or child's room, and relaxing lighter blues in bedrooms and spas.
Design Style – French blues offer formal elegance; aquas and teals evoke laidback beach houses.
Finish – Matte blues minimize reflections while glossy trims add striking bold definition. Satin and eggshell offer subtle sheen.
Furnishings – Test blue paint chips next to existing upholstery and wood stain colors before making final decisions.
Finally, don't overthink it! Trust your instincts when it comes to choosing the perfect shade of rejuvenating blue for your needs.
Answers to Common Blue Paint Color Questions:
Here are answers to some frequently asked questions when decorating with different shades of blue:
What colors complement blue paint?
Blue looks harmonious combined with crisp whites, beiges, browns, sea greens, light wood tones, and different hues of blue. Pops of yellow, red and orange enliven blue as accents.
What are some lively, energizing blues?
Bolder sky blues, aquas, teals, turquoises, and electric blues create energizing, stimulating environments. Use them judiciously to avoid sensory overload.
What are some relaxing blue paint colors?
Softer shades like powder blue, baby blue, periwinkle, iris blue, light cerulean, and navy feel peaceful and relaxing without being depressing.
How do you choose between a cool or warm shade of blue?
Cool blues have purple, green or gray undertones. Warm blues lean towards tan, beige or brown undertones. Most blues can suit any interior with the right accompaniments.
What blue paint finish looks best?
Matte blues minimize reflections in bedrooms and studies. Eggshell or satin add subtle sheen while remaining wipeable. Glossy trim pops against blue walls. Choose finish based on room function and lighting.
Final Takeaways on Decorating With This Timeless Color
Vibrant, soothing, refreshing or sophisticated – the possibilities are endless when decorating with blue paint colors. Refer back to this guide featuring 14 gorgeous blues whenever you need inspiration for creating a peaceful retreat that relaxes, inspires, stimulates or intrigues. With the right shade and preparation, blue never fails to add instant timeless beauty to your living spaces.