Calming blue paint colors effortlessly promote tranquility and relaxation. Ranging from soft pastels to muted navy, these blues create laidback, Zen spaces that inspire mental clarity.
If you're seeking the most relaxing blue paints, here are 11 beautifully calming colors for your home!
What Makes Blue Such a Soothing Paint Color?
With depths spanning from pale and airy to deep and cocooning, blue has an intrinsically calming effect linked to associations with soothing water, sea and sky. Specific qualities that relax:
Reduces Stress – Light blues in particular lower stress hormone production and heart rate. Using blue paint facilitates deep relaxation.
Promotes Sleep – Deeper blues that mimic the night sky encourage the release of melatonin for sounder sleep.
Inspires Mental Clarity – Calming blues clear away distractions and unwanted thoughts to enable greater focus.
Creates a Zen Aesthetic – Serene and non-threatening, muted or light blues evoke meditative spaces that invite stillness.
Expresses Peace – Universally associated with harmony, calm and spirituality, blue paint conveys tranquility.
Offsets Anxiety – Studies show surrounding yourself with calm blues balances brain chemicals to ease worry and panic.
Keep reading for 11 specific soothing blue paint colors pulled from top brands!
11 Beautifully Calming Blue Paint Colors
Here are the most zen-inducing blues from Benjamin Moore, Sherwin Williams, Behr and more:
1. Sherwin Williams Online
A gorgeously calming sky blue that conjures serene cloud gazing on a perfect spring day.
2. Behr Dream
An supremely soft baby blue ideal for nurseries. Its gentle hue reassures and comforts.
3. Behr Moonlit Snow
Ethereal and barely blue, this luminous neutral brightens any room while keeping the mood utterly relaxed.
4. Benjamin Moore Whispering Surf
As gentle as waves lapping the sand, this faint seafoam instantly unwinds the mind. Ideal for bedrooms.
5. Behr Silver Drop
Barely-there blue with the most delicate gray undertones. Use it to brighten while maintaining a soft vibe.
6. Sherwin Williams Indigo Batik
A globally inspired muted indigo blue that invites relaxation and contemplation of distant horizons.
7. Behr Breezy Sea
As the name suggests, this peacock blue calms like gazing endlessly out to sea under gentle winds.
8. Benjamin Moore Violet Vision
Despite the name, this is a beautifully muted seafoam with violet undertones that washes away stress.
9. Sherwin Williams Rainwashed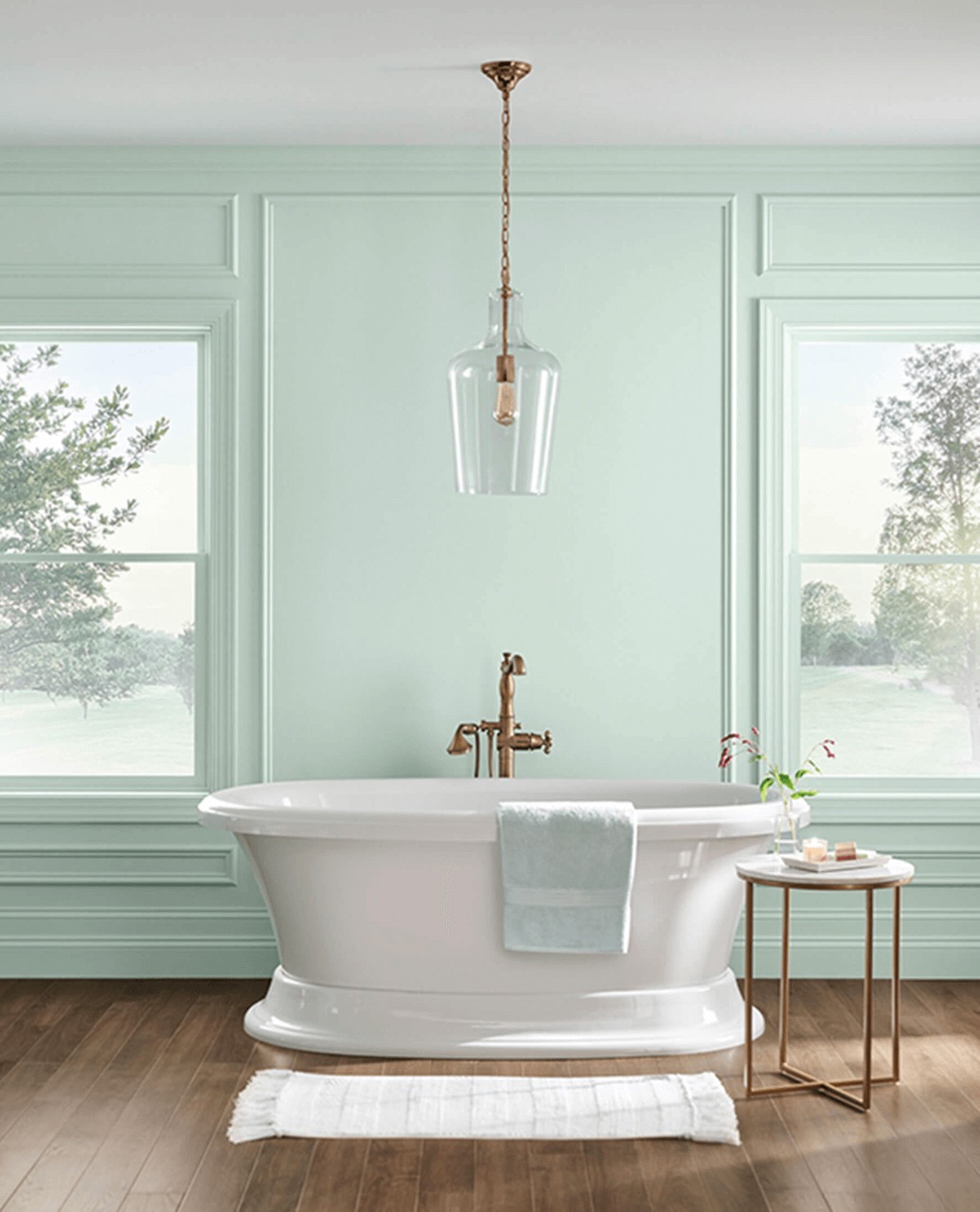 A soothing sage green and blue fusion, as calming and cleansing as spring rain showers.
10. Behr Spa Blue
As the name suggests, a supremely calming powder blue. Use in bathrooms for a relaxing escape.
11. Sherwin Williams Naval
A universally flattering navy that envelops any room in its tranquil confidence.
As you can see, the selection of calming blues is rich to inspire beautiful, meditative spaces! Keep reading for pro decorating tips.
Benefits of Calming Blue Paint Colors
In addition to looking beautiful, calming blue paint offers many health and mood benefits:
Reduces Stress – Light to mid-tone blues are proven to lower heart rate and calm the mind.
Lowers Blood Pressure – Surrounding yourself with blue light meaningfully reduces blood pressure.
Promotes Undisturbed Sleep – Darker blues that mimic the night sky encourage restorative sleep.
Inspires Mental Focus – Calm blues clear away distraction and unwanted thoughts to enable concentration.
Evokes Harmony – Long associated with tranquility, calm and spirituality, blues foster inner peace.
Eases Anxiety – Blues have a neurochemical ability to restore balance and relaxation in anxiety-prone individuals.
Clearly blue paint has advantages beyond just aesthetic appeal. But which rooms are best suited to serene blues?
Best Rooms for Calming Blue Paint
Here are the spaces ideal for relaxed, meditative calming blues:
Peaceful Bedrooms
Super soft muted blues on walls or accent walls set the stage for falling into deep, restorative sleep.
Stress Relieving Home Offices
Take mini-breaks from work life surrounded by relaxing sky blues that inspire mental clarity.
Soothing Reading Nooks
Light periwinkle blues in your favorite reading corner provides a hideaway where pages whisk you away.
Rejuvenating Bathrooms
Cool aquatic blues on bathroom walls or as shower and tub tiles provide a spa-like tranquility.
Meditative Dining Rooms
Use a calming soft navy blue on the dining room ceiling or accent wall to inspire relaxed conviviality.
Contemplative Studies
Deeper mute blues foster introspection and clear thinking without sensory overload.
In addition to full rooms, calming blue accent walls provide peaceful style. Now let's explore creative decorative ideas.
Decorating With Beautifully Calming Blues
When using shades of blue, keep these soothing design tips in mind:
Contrast calming blues with bright crisp white trims, ceilings, cabinetry and furnishings to prevent dullness.
Incorporate natural textures like linen, cotton and wool to balance blue's inherent coolness.
Display glass bottles, vases, mirrors and artwork utilizing water or ocean themes.
Choose warm metallic finishes like antiqued bronze and oil-rubbed bronze for lighting fixtures rather than cool silvers.
Layer in neutral beiges, soft greens and light wood tones rather than bold colors to allow calming blues to shine.
Add soothing affirmation wall hangings, spiritual symbols, and meaningful quotations as art accents.
Using Calming Blues Creatively on Accent Walls
Looking for a subtle relaxing oasis? Use calming blues strategically on accent walls in any room:
A restful powder blue accent wall behind the bed to wind down for sleep.
A midnight navy home office accent wall to inspire mental clarity and focus.
A spa-like sky blue focal wall in the bath for a soothing facial canvas.
A pale aqua wall behind the dining banquette to relax while enjoying meals.
A serene muted teal meditation room accent wall surrounded by unlit candle accents.
Harmonious Color Combinations For Calming Blues
While versatile blues suit most colors serenely, these palettes cultivate maximum tranquility:
Crisp Clean White
White trims, moldings, furniture and linens keep the focus on calming blue walls.
Natural Light Wood
Unfinished birch, maple and acacia wood finishes warm up blues organically.
Sandy Beiges
Warm, earthy beiges prevent calming blues from feeling too icy or stark.
Seafoam Greens
Shades of seafoam and aqua greens complement blues in perfect harmony.
Charcoal Grays
Different depths of calming blue and gray cultivate a balanced, tranquil palette.
Metallic Silver
Cool silver finishes on fixtures and accents complement calming blues modernly.
Choosing the Perfect Calming Blue Paint
With countless blue shades available, keep these factors in mind:
Room Size – Light blues maximize small rooms. Save deeper hues for larger spaces.
Natural Lighting – Bold blues suit bright sunlit rooms. Dim lighting calls for paler hues.
Room Use – Energizing bright blues aid productivity. Extra-soft blues relax and unwind.
Design Style – Aquas skew beachy, muted blues timeless, purple-blue sophisticated. Choose your look.
Furnishings – Test blue paint samples against upholstery and wood tones to ensure they complement.
When in doubt, trust your color instincts! The right calming blue will bring out the desired atmosphere.
Calming Blue Paint Color Frequently Asked Questions
Still have questions about using blue paint to create tranquility? Here are answers to common queries:
What colors complement calming blues?
Serene blues shine alongside white trims, light oak, sand beiges, contrasting grays, drifty woods, seafoam greens and metallic silvers.
What are some energizing shades of calming blue?
Vibrant sky blues, robin egg blues, turquoise, and teal blues provide gentle energizing lift while still feeling peaceful.
What are the most relaxing shades of blue?
On the calming end of the spectrum, try powder blue, pastel blue, periwinkle, iris blue, sky blue, and muted navy blue for serenity.
Should you avoid bright blues if seeking tranquility?
Not necessarily. Vibrant blues in small pops invigorate while predominantly soft blues still lend overall calm. Achieve balance.
What sheen of blue paint maximizes feelings of calm?
Matte or flat blue finishes best cultivate coziness and stillness. Eggshell and satin offer subtle sheen while also minimizing glare.
Final Takeaways on Decorating With Calming Blues
With their timeless ability to soothe away stress and welcome restful relaxation, calming blue paint colors enhance wellbeing along with beauty. Refer to this guide when planning a peaceful, palate-cleansing oasis using the 11 featured blues. Trust your instincts to choose ideal shades and accents that inspire inner calm within your unique space.