If you love blue, but don't want anything too overpowering, cool blue paint colors are the perfect choice. Ranging from pale sky blue to crisp navy, cool blues add a subtle punch of color without overwhelming.
Below are 17 gorgeous cool blue paint colors perfect for any room you want to feel crisp, clean and relaxed.
What are Cool Blue Paint Colors?
Cool blue paint colors have undertones leaning toward green, gray or purple rather than warm red or orange undertones. This gives them a more relaxed, laidback feel than bold primary blues.
There are a few main types of cool blue paint:
Blue-grays – Bluish grays, some with green/purple undertones
Sky blues – Pale to mid-tone blues
Periwinkle blues – Light blue mixed with lavender
Navy blues – Darker muted blues
Now let's look at 17 beautiful cool blue paint colors to brighten up your home.
17 Best Cool Blue Paint Colors
1. Benjamin Moore Wythe Blue
A crisp, slightly green-tinted blue. Pairs perfectly with white trim.
2. Sherwin-Williams Reflection
A very pale blue with hints of gray. Calming and ethereal.
3. Benjamin Moore Wickham Gray
A light airy blue-gray with hints of green. Chic and stylish.
4. Sherwin-Williams Raindrops
A subtle, soothing blue-gray that reads as a neutral.
5. Benjamin Moore Stonington Gray
A weathered gray-blue evocative of sea stones. Relaxed elegance.
6. Sherwin-Williams Sea Salt
A beautiful blue-gray reminiscent of the ocean.
7. Behr Coastal Fog
A soft muted blue with gray undertones. Brings the beachy tranquility of fog.
8. Sherwin-Williams Naval
A richer navy blue that feels crisp and classic. Timeless and versatile.
9. Behr Blue Vortex
A punchy royal blue for adding vibrancy. Energizing but not overwhelming.
10. Benjamin Moore White Heron
A clean blue-white that energizes without tiring the eyes.
11. Sherwin-Williams Tradewind
A breezy aqua blue that evokes the tropics. Fun and laidback.
12. Benjamin Moore Baby's Breath
The palest blue, almost white. Airy, dreamy and uplifting.
13. Sherwin-Williams Online
A serene muted slate blue tinted with gray. The perfect accent color.
14. Behr Spa Blue
A relaxing muted blue-green reminiscent of a luxury spa.
15. Benjamin Moore Steel Blue
A sturdy gray-blue that reads as a neutral. Reliable and adaptable.
16. Sherwin-Williams Rainwashed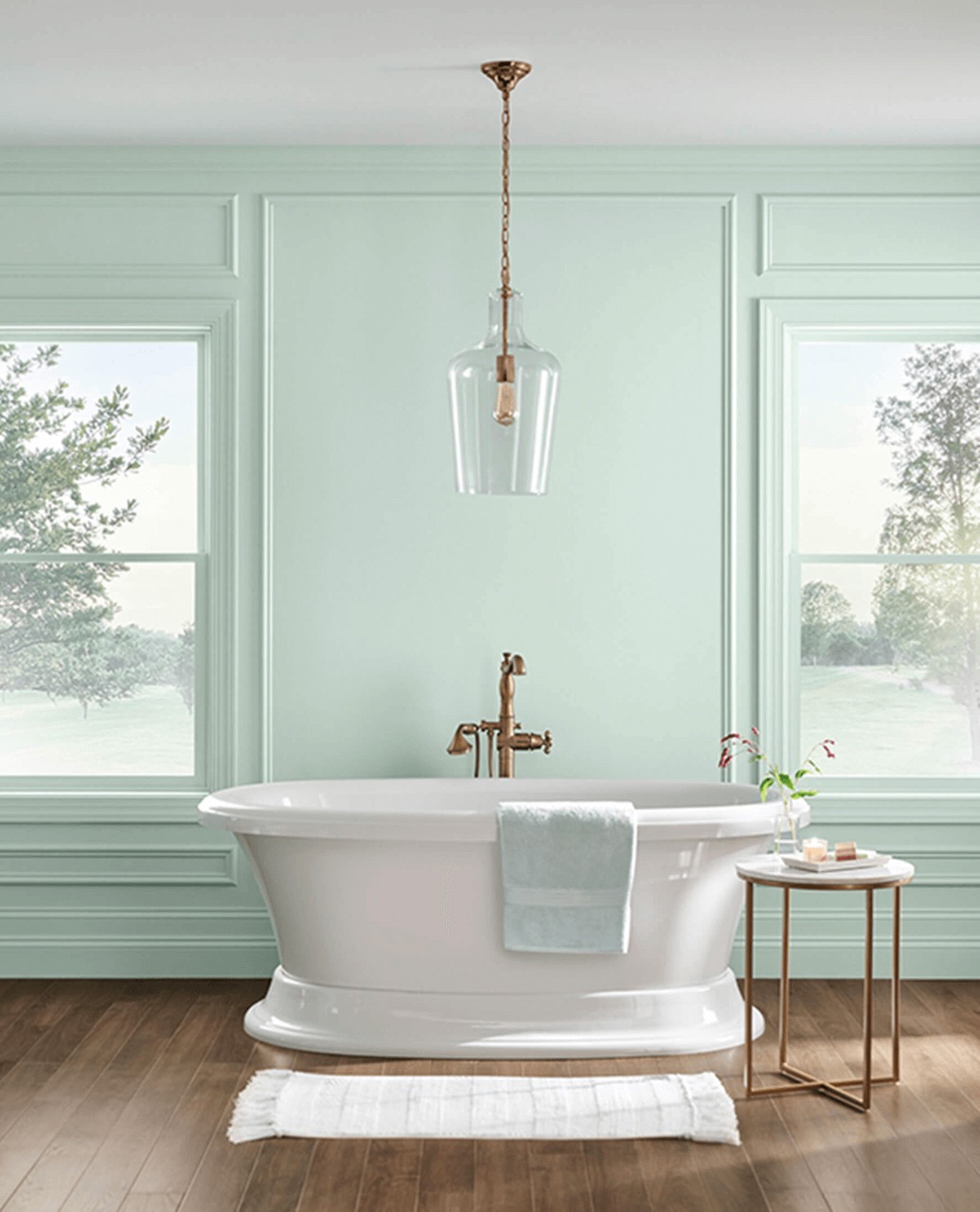 A cool tranquil blue gray, like a rainy sky. Promotes relaxation.
17. Behr Bluebell
A pretty cornflower blue that uplifts without tiring the eyes. Youthful vitality.
Benefits of Cool Blue Paint
Compared to warm blues, cool blues offer many advantages:
Calming
With their green and gray undertones, most cool blues feel soothing and promote relaxation. Ideal for destressing rooms.
Clean and Crisp
Crisp sky blues feel bright and refreshing without being too bold. Their clarity gives rooms a clean, open aesthetic.
Adaptable
Cool blues work in both traditional and modern rooms thanks to their versatility. They suit varied color schemes and decors.
Compelling Contrast
Cool blues make dynamic contrasts against warm woods, black accents, and white details. Their bold pops energize.
Mindfulness
The inherent tranquility of cool blues is said to lower anxiety and promote mindfulness. Calm the senses.
Best Rooms for Cool Blue Paint
Here are rooms perfectly suited to chic, relaxing cool blue paint colors:
1. Bedrooms
Airiness of sky blues create a sleeping sanctuary. Deeper blue-grays feel cozily cave-like.
2. Bathrooms
Cool aqua blues give bathrooms a clean, spa-like feel. Energize your morning routine.
3. Kitchens
Blue-grays on kitchen cabinetry contrast beautifully with warm wood floors and stainless steel.
4. Living Rooms
Pale blue walls serve as a soothing backdrop for family activities and entertaining.
5. Offices
Crisp blue-grays increase focus and productivity without overstimulation.
6. Dining Rooms
Navy blue dining rooms feel cozily moody. Inspire great conversations.
7. Entryways
Greet guests with calming sky blues. A relaxing welcome.
8. Laundry Rooms
Muted denim blues turn tedious chores into more pleasant breaks.
Decorating With Cool Blue Paint
Some tips for complementing cool blue walls:
Warm Wood Tones
Walnut, oak and maple furnishings balance blues' coolness
Black Metal Accents
Iron lighting and hardware adds bold crisp contrast
Natural Textures
Stone, jute, linen and wood add organic depth
Crisp White Trim
Bright white ceilings, baseboards and tile keep things fresh
Chrome Metallics
Nickel, silver and chrome pops against sky blues
Using Cool Blue on an Accent Wall
Make cool blue part of your color palette with a bold accent wall:
Bedroom – Behind the headboard in a relaxing soft blue
Office – Paint a wall in sharp navy blue to inspire focus
Bathroom – Use airy powder blue tiles on the shower wall
Living Room – On the TV wall, try a muted denim blue
Kitchen – For the backsplash, create a beach vibe with blue and white tile
Cool Blue Color Schemes
Cool blues give you lots of options to create chic, lively color schemes:
Cool Blue + Crisp White
Classic, timeless, beachy. White trims, furnishings and tile energize blue walls.
Cool Blue + Walnut Wood
Warm walnut contrasts beautifully against crisp sky blue walls. Natural yet modern.
Cool Blue + Black Accents
Black window frames, metal finishes and photography add bold edge.
Cool Blue + Gray
Different tones of blue-gray layered on walls, tile and furniture for subtle depth.
Cool Blue + Emerald Green
Deep emerald and aqua blues inspire relaxation and renewal.
Cool Blue + Sunny Yellow
Crisp sunny yellows make light blue walls energizing and cheerful.
Tips for Choosing Cool Blue Paint
With so many shades, how do you select that perfect cool blue?
Lighting: Bold, bright blues suit sunny rooms. Softer hazy blues work in darker spaces.
Use: For high-traffic areas, choose durable satin or semi-gloss finishes. Matte for bedrooms.
Size: Dark dense navy blues feel intimate in small rooms. Sky blues keep things airy.
Style: Green-grays complement modern decor. Purplish-blues feel more traditional.
Furniture: Warm woods, black metals, and white finishes contrast beautifully with cool blues.
No matter the shade, always view real paint swatches at different times of day before deciding. The color you love in morning light may look too bold in the evening.
Frequently Asked Questions
Here are some common cool blue paint color questions:
What are some examples of cool blue paint colors?
Some examples are sky blues like Behr Daydream, teals like Sherwin-Williams Tradewind, navy blues like Benjamin Moore Copenhagen Blue, and blue-grays like Sherwin-Williams Raindrops.
How do you decorate with cool blue paint colors?
Decorate with warm wood tones, crisp white trims, black accents, natural textures, and chrome metallics. Cool blues give you lots of options for compelling color schemes.
What rooms work well with cool blue paint?
Great rooms for cool blues include bedrooms, bathrooms, kitchens, laundry rooms, offices, living rooms, entryways, and dining rooms. Different intensities of blue suit different functions.
Should you use cool or warm blue paint in a bedroom?
It depends on if you want the bedroom more energizing or relaxing. Cool blues with slight green/gray undertones promote relaxation. Warm blues with red undertones provide gentle stimulation.
What sheen should you use with cool blue paint?
It depends on the room: matte for bedrooms, pearl or satin for subtle glow, semi-gloss for wipeable kitchens and baths, gloss trim for contrast.
Final Thoughts
The 17 gorgeous cool blue paint colors above showcase the shade's remarkable versatility. Ranging from the softest sky blue to bold navy, cool blues provide the ideal balance between tranquility and visual edge. Consider the room size, lighting and furnishings when selecting your perfect peaceful blue.