Blue gray paint colors are versatile hues that work well in nearly any room. While cool blue grays can create a sleek, modern look, warm blue grays have a softer, more relaxed feel. With undertones of beige, brown, taupe or greige (a mix of gray and beige), these muted shades add cozy sophistication to your home.
If you're looking for the best warm blue gray paints, here are 15 beautiful options to consider across a range of hues and tones.
What is Warm Blue Gray Paint Color?
Warm blue gray is a versatile neutral paint color that pairs beautifully with many design styles. It has undertones of blue and gray that lend a soothing, tranquil vibe to any space. Unlike cool grays, warm grays have a subtle warmth that keeps rooms feeling cozy and inviting.
If you love blue and gray but find true grays too sterile and icy blues too bold, warm blue gray may be the perfect in-between shade for your home.
Now let's look at 15 of the best warm blue gray paint colors to use in your home.
19 Best Warm Blue Gray Paint Colors
1. Sherwin Williams Online
A lush warm blue gray blending gray with hints of green and brown. Use this refined hue to create an elegant aesthetic.
2. Benjamin Moore Edgecomb Gray
A gorgeous warm blue gray with subtle brown undertones. This versatile neutral complements any style.
3. Benjamin Moore Stratton Blue
A versatile warm blue gray that pairs well with natural wood tones.
4. Sherwin Williams North Star
A cool-toned blue gray warmed by subtle brown undertones. Use it to create a tranquil retreat.
5. Benjamin Moore Harbor Haze
A soft warm blue gray evocative of hazy blue skies. Welcome guests with this relaxed hue.
6. Sherwin Williams Raindrop
A soothing blue gray with hints of green and brown. It brightens up any space.
7. Sherwin Williams Silverpointe
A gorgeous warm blue gray with subtle brown and purple. Use it to add refined style.
8. Sherwin Williams Rain
A relaxing blue gray with hints of green and tan. Use it to create a soothing space.
9. Benjamin Moore Stormy Monday
A blue-toned taupe gray that elegantly mixes gray and brown. Welcome guests with this grounding hue.
10. Sherwin Williams Cityscape
A chic blue gray warmed by brown undertones. Perfect for contemporary urban spaces.
11. Benjamin Moore Gray Mirage
A hazy warm blue gray blending gray, brown and green. Use it to create a relaxed oasis.
12. Sherwin Williams Rainwashed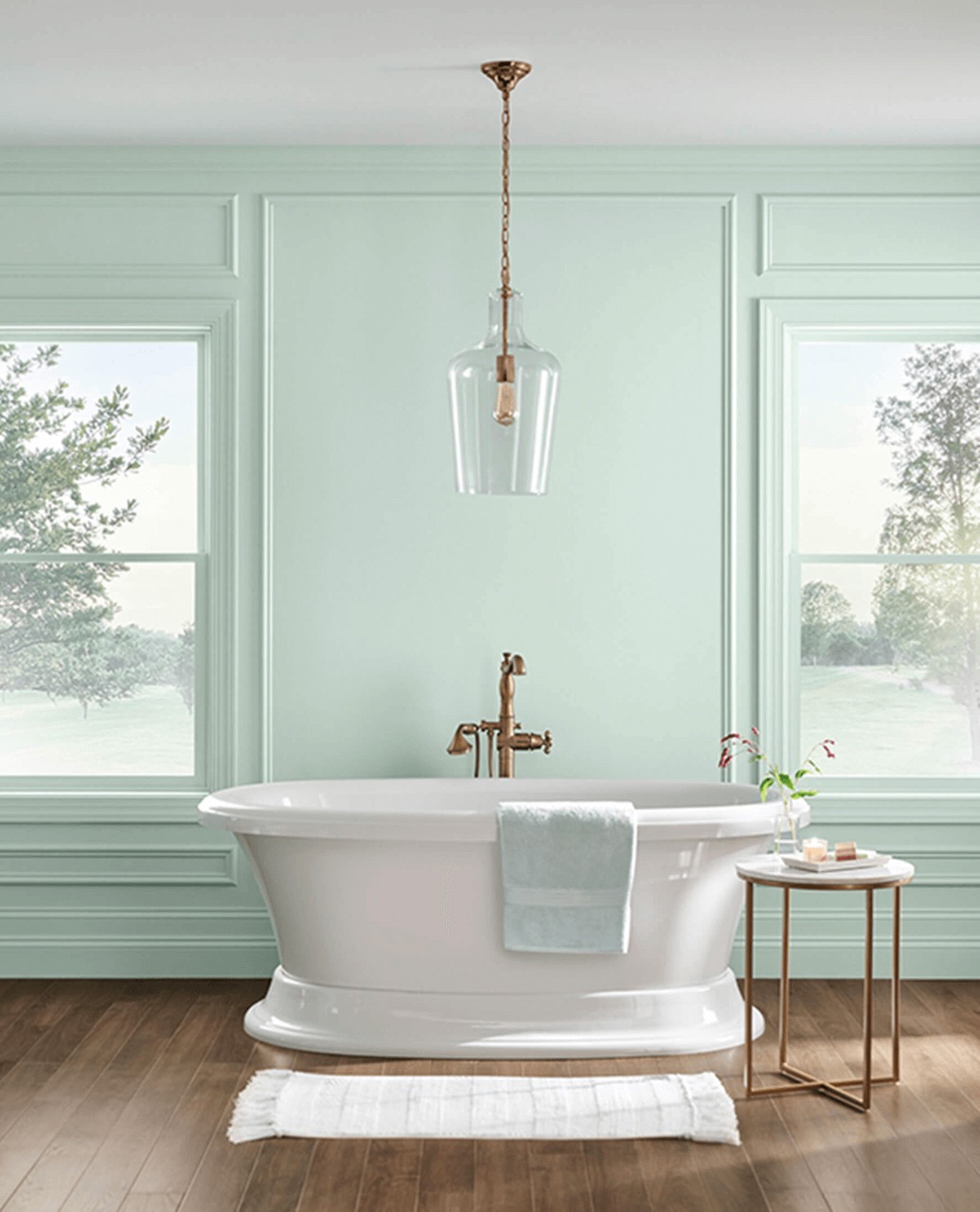 A soothing warm blue gray with hints of green and tan. Let it relax any space.
13. Benjamin Moore Windmill Wings
A gorgeous blue gray blending cool and warm tones. Pairs beautifully with natural woods.
14. Sherwin Williams Sea Salt
A beautiful warm blue gray evocative of the ocean. Welcome guests with this soothing hue.
15. Benjamin Moore Coastal Fog
A relaxing beach-inspired blue gray warmed by tan undertones. Paint bedrooms or living rooms to create a coastal retreat.
16. Benjamin Moore Gray Owl
A bestselling gray, Gray Owl is a gorgeous warm neutral with soft brown undertones. The elegant hue suits formal and casual spaces alike.
17. Sherwin-Williams Passive
Passive is a versatile greige with light warm gray and beige tones. The relaxed neutral suits family spaces like kitchens, dens and mudrooms.
18. Benjamin Moore Covington Blue
Covington Blue is a gorgeous warm neutral with subtle taupe undertones. Use it to create an airy, welcoming look in living areas and bedrooms.
19. Benjamin Moore Gray Cashmere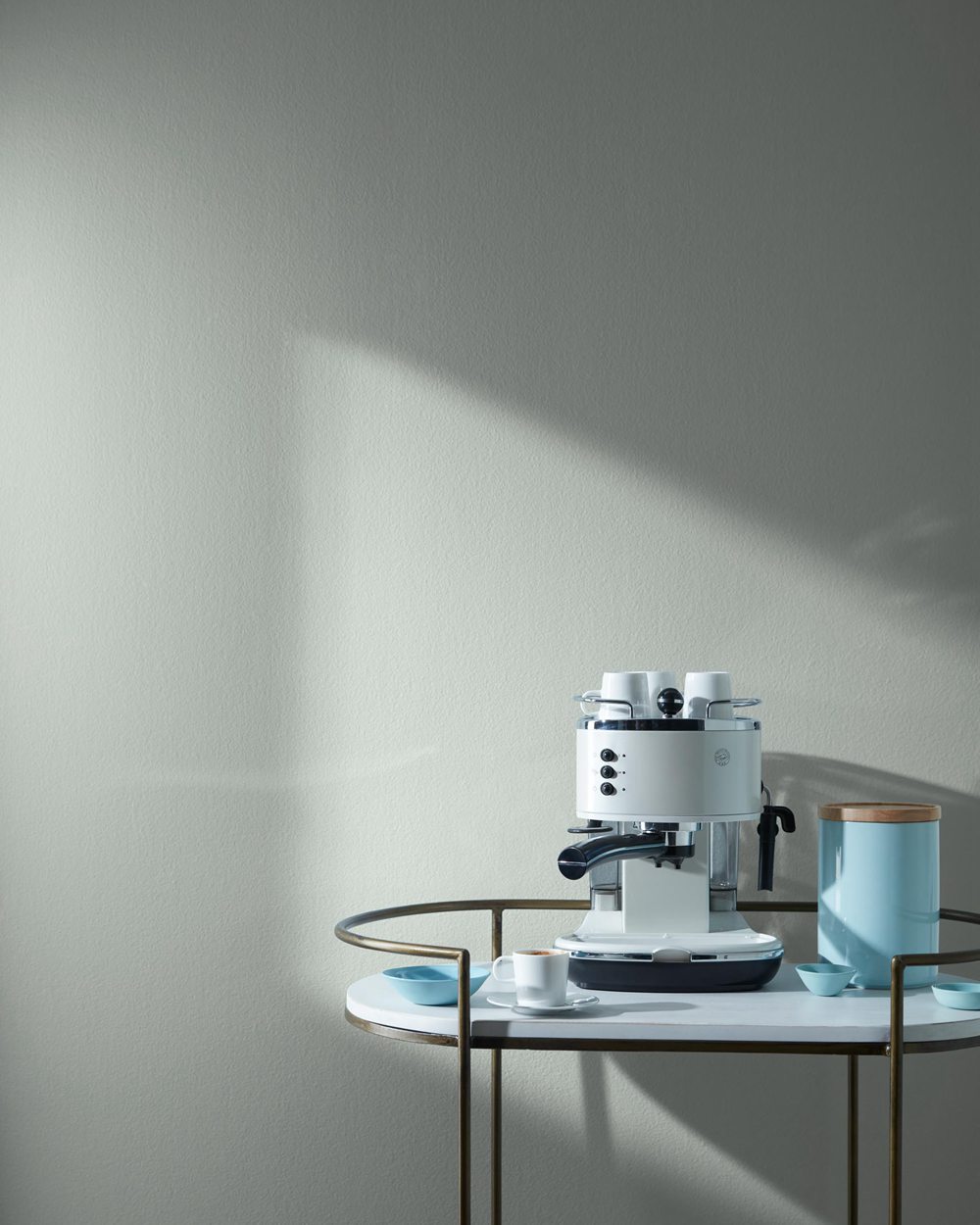 Gray Cashmere is a rich warm gray with subtle brown tones. Use this refined shade to add understated drama to luxe formal spaces.
Benefits of Warm Blue Gray Paint
Warm blue grays offer a soft, relaxed feeling to a room. Here are some of the benefits of using warm blue gray paint colors:
Inviting and Cozy
The hints of blue mixed with warm grays create an approachable and comforting look. Warm blue grays are ideal for bedrooms, family rooms, living rooms and other places you want to feel tranquil and cozy.
Versatile Neutral
Like other neutral grays, warm blue gray works with many furniture finishes and accent colors. It doesn't fight with other hues in the room. The subtle blue undertones add visual interest without overwhelming.
Natural Look
Warm blue grays take inspiration from colors found in nature, like stones, sand and weathered wood. The colors have an organic, soothing vibe.
Softens Cool Hues
Pairing warm blue gray with crisp whites or cool grays creates a beautiful, balanced look. The warm gray helps soften and warm up the bolder cool tones.
Adds Depth
The complexity of warm blue gray adds dimension and depth to a space. The colors aren't flat or boring. There's movement that keeps the eye engaged.
Best Rooms for Warm Blue Gray
Certain rooms and spaces will benefit most from warm blue gray paint colors. Here are some of the best rooms to use warm blue grays:
1. Bedrooms
Warm blue grays are perfect for bedrooms because they promote relaxation and sleep. The colors aren't too energizing or intense. Use warm blue gray on the walls, and add crisp white trim and bedding for contrast.
2. Living Rooms
Living rooms need to balance comfort and style. Warm blue grays strike that balance beautifully. The colors add sophistication but still feel inviting and cozy.
3. Dining Rooms
Use warm blue gray in the dining room to create an intimate, welcoming space for family meals. Pair with wood furniture and natural textures for an organic look.
4. Bathrooms
Warm blue gray brings the spa vibe to the bathroom. Use on the walls or cabinetry, and contrast with white tile and fixtures for a clean, relaxing oasis.
5. Offices
Warm blue gray paint promotes focus and concentration in a home office. The colors are soothing but not too soft or sleepy. Add crisp white trim for definition.
6. Nurseries & Kids' Rooms
For kids' spaces like nurseries or bedrooms, warm blue gray provides a gender-neutral backdrop. Accent with bright colors and fun patterns.
7. Kitchens
Use warm blue gray on the cabinetry or an accent wall in the kitchen. Pair with marble, wood or stainless steel finishes for nice contrast.
8. Hallways
Paint hallways and ceilings in warm blue gray to create a seamless flow in an open floor plan. The colors connect spaces with a neutral backdrop.
Decorating with Warm Blue Gray Paint
When using warm blue gray paint colors, keep these decorating tips in mind:
Choose the Right Undertones
Greige grays have brown undertones that create a taupe look. Greige grays are warmer than true blue grays.
Green-gray has subtle green undertones that provide natural, peaceful vibes.
True blue gray has prominent blue undertones that read as a soft gray with hints of blue.
Lighter Hues for Small Rooms
Dark warm blue grays can feel brooding and intimate. Save the deeper hues for larger rooms.
In small rooms, stick to light to medium warm blue grays. They keep the space feeling open and airy.
Contrast with White
For definition, paint the trim and ceilings white. This grounds the room and prevents the warm blue gray from feeling too drab or monotonous.
Crisp white bedding and furnishings also pop against the blue gray backdrop.
Layer Textures
Combine smooth, soft surfaces with rough natural textures. Try linen bedding on an iron frame, or wool rugs on hardwood floors.
Incorporate wood, marble, leather and metals for visual interest.
Metallic Accents
Warm metals like brushed gold and oxidized bronze highlight the blue undertones in warm blue gray.
Cool metals like nickel and chrome are crisp against the softness of blue gray.
Greenery and Plants
Bringing in living greens enlivens warm blue gray paint. The colors in the plants provide natural contrast.
Place potted plants in light blue ceramic pots to really make them pop against the walls.
Using Warm Blue Gray for an Accent Wall
Warm blue gray makes a beautiful accent wall color. The moody blue gray provides depth and contrast against other neutral wall colors. Here are accent wall ideas:
Bedroom – Paint the headboard wall in a rich warm blue gray. Use crisp white bedding and lighter blue gray on the other walls. Add in wood nightstands for warmth.
Dining Room – Use blue gray behind the credenza or dining table to anchor the space. Painting just one wall prevents it from feeling too dark.
Bathroom – On the tub or shower wall, use a watery warm blue gray. Contrast with white on the other walls.
Office – Paint one wall in a warm blue gray. Use it behind the desk or on a feature wall with shelving.
Kitchen – Behind the stove or sink, paint a warm blue gray backsplash wall. Pair with light gray cabinets and white quartz counters.
Warm Blue Gray Color Schemes
Warm blue gray is endlessly versatile when it comes to color pairings. Here are some classic color schemes with warm blue gray:
Warm Blue Gray + Crisp White
This classic combo can't be beat. The crisp white makes the walls pop. Use white generously on trims, ceilings, cabinetry and furnishings.
Warm Blue Gray + Oak Wood Tones
Bring out the brown undertones by pairing warm blue gray with oak wood finishes. Use oak flooring, furniture and wood accents.
Warm Blue Gray + Black Accents
For modern edge, pair warm blue gray walls with black stainless steel hardware and black window frames. Black and white photography and art pops against this combo.
Warm Blue Gray + Greenery
Lush greenery makes warm blue grays feel even more natural and peaceful. Use potted plants, leafy artwork and garlands.
Warm Blue Gray + Terracotta
Make warm blue grays feel extra cozy by pairing with terracotta colors. Bring in terracotta pots, tiles, bowls and textiles.
Warm Blue Gray + Gold Metallic
Polished gold accessories make warm blue gray feel glam. Use gold frames, table lamps, knobs and curtain rods.
Choosing the Right Warm Blue Gray
With so many beautiful warm gray paint colors, how do you choose? Here are a few tips:
Lighting: Lighter grays like Sherwin-Williams Repose Gray work best in rooms with limited natural light. Darker hues like Behr Weathered Taupe are ideal for sunny spaces.
Room Use: For high-traffic family rooms, choose durable satin or semi-gloss paints in medium-tone grays like Sherwin-Williams Passive. Use soft matte finishes in bedrooms.
Style: Cool grays complement modern spaces, while warm grays work for traditional decor. Greige shades easily fit both aesthetics.
Undertones: Gray paints with brown, taupe, plum or greige undertones have a cozier feel than those with blue or purple undertones.
Pairings: Warm grays work well with woods, black accents, camels, greys and patterns like plaids. Crisp whites and pastels soften them.
Consider the overall look you want and how much natural light the room gets. This will help narrow your selection. Be sure to view paint swatches in the space before making a final decision.
Frequently Asked Questions
Here are answers to some common questions about warm gray paint colors:
What are the undertones in warm gray paint colors?
Warm grays contain subtle undertones of red, yellow, brown, taupe, beige or greige rather than cool undertones of blue, green or purple. These warm base colors give them a softer, more relaxed look than cool grays.
What colors go well with warm grays?
Warm grays pair beautifully with neutrals like cream, beige and camel. Earth tones like browns, taupes, and tans also complement them. Crisp white provides a nice contrast. Cooler shades of blue and green work well with warm grays too.
How do you choose between warm and cool grays?
Consider the look you want to achieve and the room's purpose. Cool grays feel sleek and modern while warm grays are generally more relaxing. North-facing rooms with limited natural light suit warm grays. South-facing sun-filled spaces can handle cool or warm grays.
Should warm grays be used in bright rooms?
Yes, warm grays work well in bright, sunny rooms. While they are soft and cozy, warm grays have enough contrast to stand up to strong natural light. Lighter warm grays prevent darker rooms from feeling overly shady.
What paint finish works best with warm grays?
Warm grays look beautiful in many sheens. Eggshell provides a soft luminosity, satin offers durability and subtle shine, while Matte finishes minimize reflections. Full gloss paints add striking sleekness to trim. Match finish to room use.
Summary
Warm blue gray paint colors balance softness and versatility. With soothing undertones of beige, taupe, greige and tan, they create welcoming, livable rooms. Whether you seek a light neutral canvas or prefer a cozy, cocooning effect, the 15 shades profiled here offer inspiring options. Consider the look you want, room lighting and furnishings when choosing your perfect warm blue gray.