Beachy blue paint colors capture the breezy, relaxed vibe of seaside living. Ranging from soft aquas to bold nautical hues, beachy blues lend any space a casual, coastal elegance. With the tranquility of blue and hints of green, these shades create a soothing oasis.
If you love the coast and want to incorporate its beauty at home, explore these 14 gorgeous beachy blue paint colors. From pale sky blues to rich navy hues, these versatile options help craft your ideal beach house aesthetic.
What Are Beachy Blue Paint Colors?
Beachy blues encompass any shades evocative of the ocean and seaside. Cool aquas, sea glass greens, sky blues and deep navy tones capture the colors found along the shoreline. Relaxing with ample style, beachy blues breathe the casual refinement of coastal living into any space.
Popular beachy blue paints include shades like surf blue, coastline blue, sea salt green and yachting blue. Soft, breezy hues feel laid back. Deeper blues and greens add a refined nautical sensibility. The right tone depends on your goals.
Now let's dive into 14 beautiful beachy blue paint colors to consider.
14 Best Beachy Blue Paint Colors
1. Behr Hazy Skies
A soft misty aqua, Hazy Sea beautifully blurs the line between green and blue. Its soothing tranquility whisks you away.
2. Benjamin Moore Palladian Blue
With hints of green, Palladian Blue is the quintessential beach house hue. Effortlessly elegant and relaxed.
3. Sherwin-Williams Sea Salt
Sea Salt is a beautifully breezy pale teal that conjures strolls along the shoreline. Use it to create a casual coastal retreat.
4. Behr Beach House
Beach House is a light sky blue with barely-there green undertones. Its laidback energy sets the stage for tranquility.
5. Sherwin-Williams
Rainwashed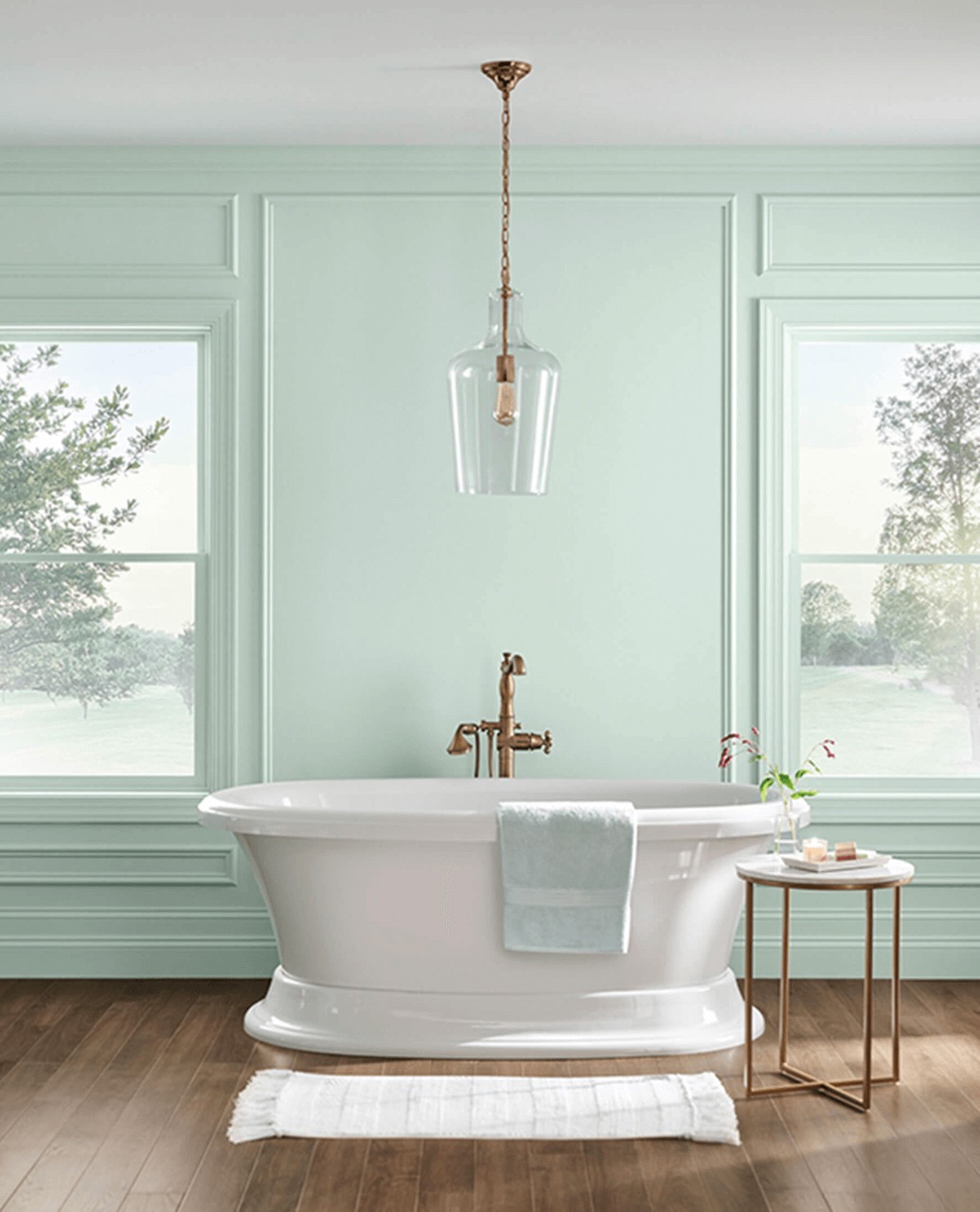 Crisp and clear, Rainwater is a soft Caribbean blue that brightens up rooms naturally. An uplifting neutral.
6. Benjamin Moore Coastline
Coastline is a relaxed medium blue with hints of green that whisks you away to sandy shores. Use it to recreate the casually elegant feel of resort living.
7. Benjamin Moore Beach Glass
Like sea foam washing ashore, Beach Glass is a serene aqua green. Its soothing vibe builds beach houses and relaxation spaces.
8. Benjamin Moore Newburyport Blue
With its classic nautical vibe, Newburyport Blue makes any space feel properly shipshape. Crisp yet still relaxing.
9. Benjamin Moore Wythe Blue
Wythe Blue is a historic coastal blue with hazy gray undertones. Gently weathered and refined, it suits seaside cottages with traditional charm.
10. Sherwin-Williams Rain
With its misty seafoam hue, Raincloth veils rooms in the soothing atmospherics of the coastline. A versatile, adaptable blue for bedrooms, dining areas and more.
11. Benjamin Moore Sail Cloth
Like your favorite sunbleached canvas tote, Sail Cloth is a sturdy, organic blue white. Naturally beachy and relaxed.
12. Sherwin-Williams Tradewind
Tradewind is a soft green-blue with enough verdancy to feel transportative. Use it in tranquil bedrooms, baths and studies.
13. Sherwin-Williams Online
Online is a laidback denim blue that conjures weekends lounging by the shoreline. Use it to lend any space supreme relaxation.
14. Behr Breezeway
Like a seaside stroll at dusk, Breezeway is a hazy slate blue that sets the stage for easy living. Unwind in its tranquility.
Benefits of Beachy Blue Paint Colors
Beyond their inherent beauty, beachy blues offer great advantages for home interiors:
Relaxing & Soothing
With their cool, misty hues, beachy blues inherently promote deep relaxation. They wash the mind clean and promote rest, unwinding and creativity.
Casually Sophisticated
While laidback, beachy blues still lend spaces refinement and style. Their muted tones and green hints offer organic elegance.
Evoke the Coast
More than any shades, beachy teals, aquas and navies transport you to tranquil shores. They bring the essence of seaside living anywhere.
Promote Creativity
Like their bolder blue cousins, beachy blues inspire mental clarity and imagination. Their tranquility sharpens focus for writers, artists and more.
Provide Contrast
Against warm whites, taupes, woods and brights, beachy blues create vivid yet peaceful contrast. Their cooler nature uniquely enhances warm elements.
Best Rooms for Beachy Blues
Certain spaces most benefit from beachy blues' breezy sophistication:
1. Bedrooms
Nothing promotes deep sleep like surrounding yourself in cool, misty beachy blues. Use on accent walls or all four walls.
2. Bathrooms
Similarly, bathrooms feel supremely spa-like when painted in soft aquas and teals. Contrast with warm wood vanities.
3. Living Spaces
For lounging and relaxation, beachy blues lend living rooms an organically chic style. Pair with rattan and linen for serenity.
4. Kitchens
Soft blue and green cabinetry or backsplashes add breezy coastal edge to kitchens. Coordinate with marble countertops and chrome fixtures.
5. Dining Rooms
Beachy blues transform dining rooms into casually sophisticated spaces for gathering and meals. Add driftwood tables for contrast.
6. Offices
Soft aquas and sea foam greens enhance concentration and inspire creativity in home offices. Add cozy textures for balance.
7. Beach Houses
Nautical blues and grays help craft the quintessential coastal retreat. Use generously throughout beach homes.
8. Laundry Rooms
Even utilitarian rooms get a serene overhaul with happy aqua blues. Coordinate with mosaic tile floors.
Decorating with Beachy Blue Paint
When using beachy blues in your home, keep these decorating tips in mind:
Choose the Right Tones
Aqua blues with hints of green feel supremely beachy and relaxing.
Sky blues lend an easygoing, cheerful vibe.
Navy blues with green or gray undertones have refined nautical style.
Contrast with White
For freshness, use crisp white trims, ceilings and shelving. This prevents "muddy" blues.
White bedding, furnishings and art pops against blue walls.
Incorporate Natural Textures
Natural textures like linen, seagrass, rattan and driftwood enhance a coastal vibe.
Weathered wood finishes, woven shades and stone work beautifully.
Metallic Accents
Aged bronze, brass and brushed gold fit the beach aesthetic.
Stainless steel, chrome and nickel lend modern edge.
Greenery and Plants
Small leafy plants and airy flower arrangements further the seaside tranquility.
Potted palms, orchids and succulents add life.
Using Beachy Blue on Accent Walls
Accent walls provide the ideal way to feature beachy blue paint colors without overwhelming a space. Consider these ideas:
Bedroom – Behind the bed, paint a soft relaxing beachy blue. Contrast with crisp white bedding.
Bathroom – On the shower or tub wall, paint a sea glass green. Use light stone tile on surrounding walls.
Office – To inspire creativity, use sky blue on the wall behind a desk. Add beach photography.
Living Room – Behind the sofa or TV, paint a weathered nautical blue accent wall.
Kitchen – On the wall behind the stove or sink, paint a happy aqua blue. Brighten with white cabinets.
Beachy Blue Color Schemes
When coordinating colors with beachy blues, consider these soothing combinations:
Beachy Blue + White
Crisp white trims, walls, bedding and furnishings look beautiful against beachy blues. The contrast is vivid yet peaceful.
Beachy Blue + Oak Wood
Driftwood, oak floors and furniture lend organic warmth against cool beachy blues. A quintessential beach house palette.
Beachy Blue + Sea Glass Green
Pairing soft sea glass greens with sky blues enhances the breezy coastal vibe. Use light green accents and art.
Beachy Blue + Sand Beige
Warm sand colors in walls, rugs and textiles complement beachy blues' vibrancy with cozy neutrality.
Beachy Blue + Sunny Yellow
Cheerful daisy yellows highlight and enhance the cool tranquility of soft beachy blues. Use yellow accents in moderation.
Choosing the Perfect Beachy Blue
When selecting beachy blue paint colors, consider:
The room's natural light – Soft hazy blues suit dim coastal rooms. Brighter blues need ample sunlight.
The desired mood – Cool blues relax. Greenish aquas energize. Navy blues lend traditional refinement.
Existing décor – If warm woods dominate, pick oceanic greens and teals. With cool grays, choose airy sky blues.
The room size – Deeper blues suit spacious rooms. For small rooms, stick to soft tranquil blues.
Be sure to view real paint swatches in varied lighting to find the perfect beachy blue for your needs and preferences. Light impacts these hues.
Frequently Asked Questions
Here are answers to common beachy blue paint color questions:
What colors work well with beachy blues?
Crisp whites, weathered wood, sea glass greens, sand beiges, yellows and neutral taupes all complement soft beachy blues beautifully.
What rooms suit beachy blue walls best?
Bedrooms, baths, living rooms, offices, laundry rooms and kitchens look stunning and serene painted in beachy blues. Use on full walls or single accent walls.
Are beachy blues relaxing?
Yes, beachy blues promote relaxation, tranquility and calm focus with their cool, oceanic hues. Soft aquas and seafoam greens relax best.
Do beachy blues work in sunny rooms?
In bright spaces, vivid beach blues with enough contrast hold their own. For naturally sunlit rooms preferring softness, choose hazy sky blues and teals.
What sheen works best with beachy blues?
It depends on the location. Eggshells provide subtle glows, satins offer durability and matte hides imperfections. Use semi-gloss trim for contrast.
Summary
With their breezy coastal beauty, beachy blue paint colors make an enticing choice for creating a relaxed yet refined home. Whether you adore soft misty shoreline hues or rich nautical tones, the 14 featured shades offer gorgeous ways to incorporate this tranquil neutral. Just be sure to balance depths with light and natural textures, viewing real swatches to find your perfect beachy blue.