Teal blue is a gorgeous, versatile paint color that adds vibrancy and depth to any room. Ranging from green-tinged aquas to richer jewel tones, teal blue makes a stunning interior paint choice.
If you love color and want to energize your home's walls and furnishings, teal blue is an ideal direction. Keep reading to discover 17 beautiful teal blue paint colors to consider across various hues and tones.
What is Teal Blue Paint?
Teal describes a range of blue-green colors that sit between classic blue and green on the color spectrum. Teal blues usually have more blue than green in their makeup.
Compared to a pure sky blue, teal blue also has yellow-green undertones mixed in. This subtle green infusion gives teal a deeper, more complex look than regular blue.
Some teal blues appear almost aqua, with very obvious green tones. Others are closer to a dusty denim blue. And some teals have a touch of gray for a more sophisticated mood.
No matter the exact shade, teal blue always combines the relaxing properties of blue with the vitality of green. This makes it ideal for creating energized yet laidback spaces.
Brands like Behr, Benjamin Moore and Sherwin-Williams all offer extensive teal paint color collections. There are so many options to suit any style.
Benefits of Teal Blue Paint
What makes teal blue paint so desirable? Here are some of the top perks:
Vibrant but Relaxing Color
Teal blue has much more visual interest than plain gray, white or beige. Yet it isn't quite as energizing as a primary blue or green on its own.
So teal blue adds a good balance of soothing color without going overboard. It manages to feel both vibrant and calm in one hue.
Complements Many Design Styles
From modern to cottage, teal blue pairs well with many aesthetics. Its flexibility makes it quite versatile to use around the entire home.
While vibrant, teal isn't too bold or out there. It mixes in easily to create a pulled-together look.
Coordinates With Many Colors
Teal also complements many paint colors like coral, yellow, purple, gray and even other shades of green and blue. This makes coordinating fun accent colors a breeze.
Adds Character to Kitchens and Baths
Teal is extremely popular for adding stylish personality to kitchens, baths and laundry rooms. It livens up cabinetry and walls without feeling overwhelming.
A little teal goes a long way in these utilitarian rooms. It adds an artistic splash of color.
Appealing Contrast to Wood Tones
Finally, teal's green undertones looks gorgeous paired with wood finishes. It provides appealing contrast next to natural oak, walnut and bamboo pieces.
Best Rooms for Teal Blue Paint
While versatile overall, teal blue looks particularly stunning in these home spaces:
Kitchens – Use on kitchen cabinetry, islands, or accent walls paired with light countertops.
Bathrooms – Paint vanities, tiles and accent walls teal to make bathrooms pop.
Bedrooms – Use teal on the headboard wall, accent furniture or in lively kids' rooms.
Offices – Paint an office teal for an inspiring, focused color palette.
Dining Rooms – Use teal walls or a painted china cabinet to liven up dining spaces.
Living Rooms – Accent living room walls, shelving, tables and decor with the hue.
Laundry Rooms – Make drab laundry rooms fresher using teal on cabinetry or an accent wall.
Nurseries – Gentle teals create a soothing but playful backdrop in kids' nurseries.
17 Best Teal Blue Paint Colors
Ready to choose the ideal teal paint color? Here are 17 top teal blue hues for your home:
1. Behr Teal Zeal
This medium teal with green undertones packs visual punch.
2. Sherwin-Williams Krypton
Sherwin-Williams' yellow-based electric teal pops off the wall.
3. Benjamin Moore Hawaiian Breeze
This bright aqua recalls the tropics. Use in kitchens and laundry rooms.
4. Sherwin-Williams Oceanside
Oceanside is a soft seafoam green teal perfect for bathrooms.
5. Benjamin Moore Whirlpool
A light, airy teal with barely-there gray undertones to refine it.
6. Behr Teal Motif
With its yellow base, Teal Motif is cheerful and energizing.
7. Sherwin-Williams Tradewind
Tradewind's touch of gray elegantly deepens classic teal for living rooms.
8. Behr Cockleshell
A creamy pastel teal that provides subtle color without going overboard.
9. Behr Laguna Blue
Behr's peacock teal adds drama to bedrooms and offices.
10. Benjamin Moore Blue Lagoon
This mix of green, blue, and gray evokes a misty coastal lagoon.
11. Behr Waterfall
Waterfall lightens teal with seafoam green and white for a soothing bath hue.
12. Benjamin Moore Patriotic Blue
Patriotic Blue's aqua tones suit relaxed yet cheerful kids' spaces.
13. Behr Island Oasis
Island Life lightens teal with sea glass green and white for bedrooms.
14. Benjamin Moore Atlantis
Benjamin Moore's warm yellow-based teal feels beachy and relaxed.
15. Behr Pelican Bay
Pelican Bay mixes sky blue and sage green beautifully.
16. Sherwin-Williams Rainwashed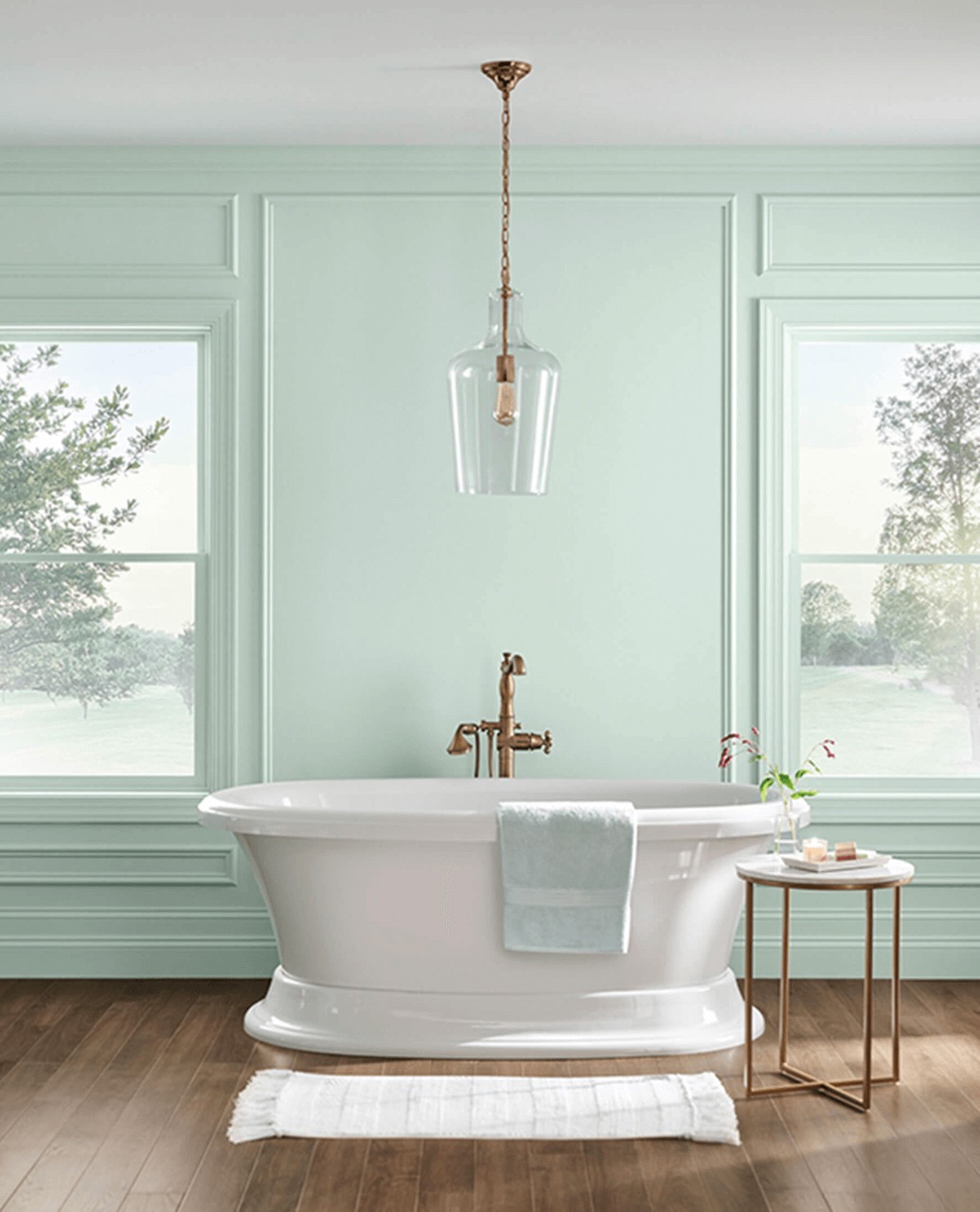 Rainwashed is a breathable gray-based teal for peaceful bedrooms.
17. Behr Aquatic Green
Behr's serene spa-like teal works wonderfully in bathrooms.
Decorating With Teal Blue Paint
Excited to use teal paint in your home? Keep these design tips in mind:
Go Bold or Subtle – Use teal on entire walls and furnishings for drama, or in small accent doses to delicately punch up rooms.
Pair with Neutrals – Crisp white trim, warm wood furniture and gray walls make teal pop. But don't overdo neutrals or teal will get drowned out.
Consider Sheen – Matte or eggshell finishes keep teal soft. Semi-gloss provides depth. Use glossy sheen sparingly on trims and cabinets.
Add Metallic Accents – Polished gold, rose gold and brass enrich teal's color. Chrome and nickel feel too stark.
Use Natural Textures – Teal looks beautiful alongside rattan furnishings, jute rugs, linen fabrics and light wood grain textures.
Include Teal Decor – Frames, pillows, vases and other decor in harmonizing teals tie the full room together.
Teal Blue Color Scheme Ideas
Some colors that pair particularly beautifully with teal paint include:
Crisp White – White trim, walls, furniture and decor make teal pop dramatically.
Pale Yellow – Buttery yellows bring out teal's cheerfulness.
Soft Gray – Misty grays like Benjamin Moore Silver Fox temper teal's vibrancy in a serene way.
Black – For bold contrast, pair teal walls with black floors and accents.
Terracotta – Rusty terracotta pots, textiles and tiles complement teal nicely.
Robin Egg Blue – Mix teal with lighter sky blues and aquas for a beachy vibe.
Coral – Vibrant orangey corals make teal feel even more energetic.
Best Teal Paint Colors by Style
Here are the top teal blue paint colors to consider for various design aesthetics:
Contemporary Modern – Sherwin-Williams Tradewind or Behr Atlantis
Tropical – Benjamin Moore Hawaiian Ocean or Behr Atlantis
Coastal – Behr Waterfall or Sherwin-Williams Oceanside
Transitional – Benjamin Moore Canal Blue or Sherwin-Williams Rainwashed
Eclectic Bohemian – Behr Treehouse or Behr Paisley Park
French Country – Valspar Breezeway or Behr Cockleshell
Farmhouse and Cottage – Sherwin-Williams Lagoon or Behr Stormy Sea
Minimalist – Benjamin Moore Whirlpool or Sherwin-Williams Rainwashed
Using Teal Blue Paint in Different Rooms
Teal can transform these rooms in your home:
Kitchens – Paint lower or upper cabinets a dramatic teal against light counters and backsplash tile.
Bathrooms – Use teal on the vanity, an accent wall or to paint clawfoot tub exterior.
Bedrooms – Paint the headboard wall or side tables teal for color drama against neutrals.
Kids' Rooms – In kids and teen spaces, use teal walls or paint a colorful accent wall.
Offices – Energize home offices with teal accent walls or desk paint colors.
Laundry Rooms – In this utilitarian space, teal cabinetry or walls add needed style.
Dining Rooms – Use teal walls to contrast crisp white built-in cabinetry and dining chairs.
Teal Blue Paint FAQs
Here are answers to some frequently asked questions about decorating with teal:
What colors make teal blue paint?
Teal comes from combining green, blue and sometimes aqua or yellow tones. Gray, purple or brown bases can also mute or deepen teal.
What are teal's undertones?
Teal blues usually feature green, yellow, gray, purple, or brown undertones. Green-yellow teals are brighter. Gray teals feel more sophisticated.
What rooms does teal paint work best in?
Teal suits bathrooms, kitchens, laundry rooms, kids' spaces, offices and dining rooms particularly well. Use more sparingly in adult bedrooms and living areas.
Is teal paint gender specific?
Not at all! While technically a "cool" color, teal works in both masculine and feminine spaces.
Should you paint the whole room teal?
Teal can feel overwhelming on all four walls. Stick to using it on accent walls, furniture and decorative objects instead. Crisp white backgrounds allow teal accents to pop.
Bring Depth With Teal Blue Paint
Teal truly livens up any space with its inviting energy. With so many shades to choose from, you can easily find the right teal paint color for your home. Use it subtly or make it the bold star – teal always enriches rooms with its complex beauty.