Dark blue green is a sophisticated paint color that brings beauty and depth to any space. Often associated with lush landscapes, dark teals and deep aquas connect us to nature in subtle yet immersive ways. Blending cool blue with earthy green undertones, dark blue greens offer mood-boosting tranquility with ample style.
If you're looking to use this versatile color in your home, here are 13 beautiful dark blue green paint options to consider. Ranging from soft blue-greens to bold deep teals, these gorgeous shades will help you create your ideal aesthetic.
What Are Dark Blue Green Paint Colors?
Dark blue green paint colors feature a bold blue base mixed with subtle green undertones. Unlike bright turquoise blues, dark blue greens have more complexity with their blending of cooler and warmer hues. The colors evoke thoughts of pine forests, deep oceans and rainforests, connecting us to the calming power of nature.
Often classified as teal, aqua, peacock or emerald, the best dark blue greens have enough blue to remain soothing yet truly come alive when illuminated. Greener teals feel organic yet sophisticated. Bluer shades read as moodier midnight teals. Finding the perfect balance depends on your goals.
Now let's explore 13 beautiful dark blue green paint colors for your home.
13 Best Dark Blue Green Paint Colors
1. Benjamin Moore Steam
Steam is a soft, misty blue green that delicately mixes gray and green for a relaxed look. Use it to create a soothing sanctuary.
2. Behr Dark Room
Evocative of rich peacock feathers, Darkroom is a vibrant teal green. Use it to add regal flair to any space.
3. Benjamin Moore Sleepy Hollow
Sleepy Hollow is a moody, mysterious dark teal. Use this deep shade to create an intimate retreat.
4. Sherwin-Williams Oceanside
Oceanside is a soft seafoam green with barely-there blue undertones. The soothing color tastefully embraces coastal living.
5. Sherwin-Williams Rainwater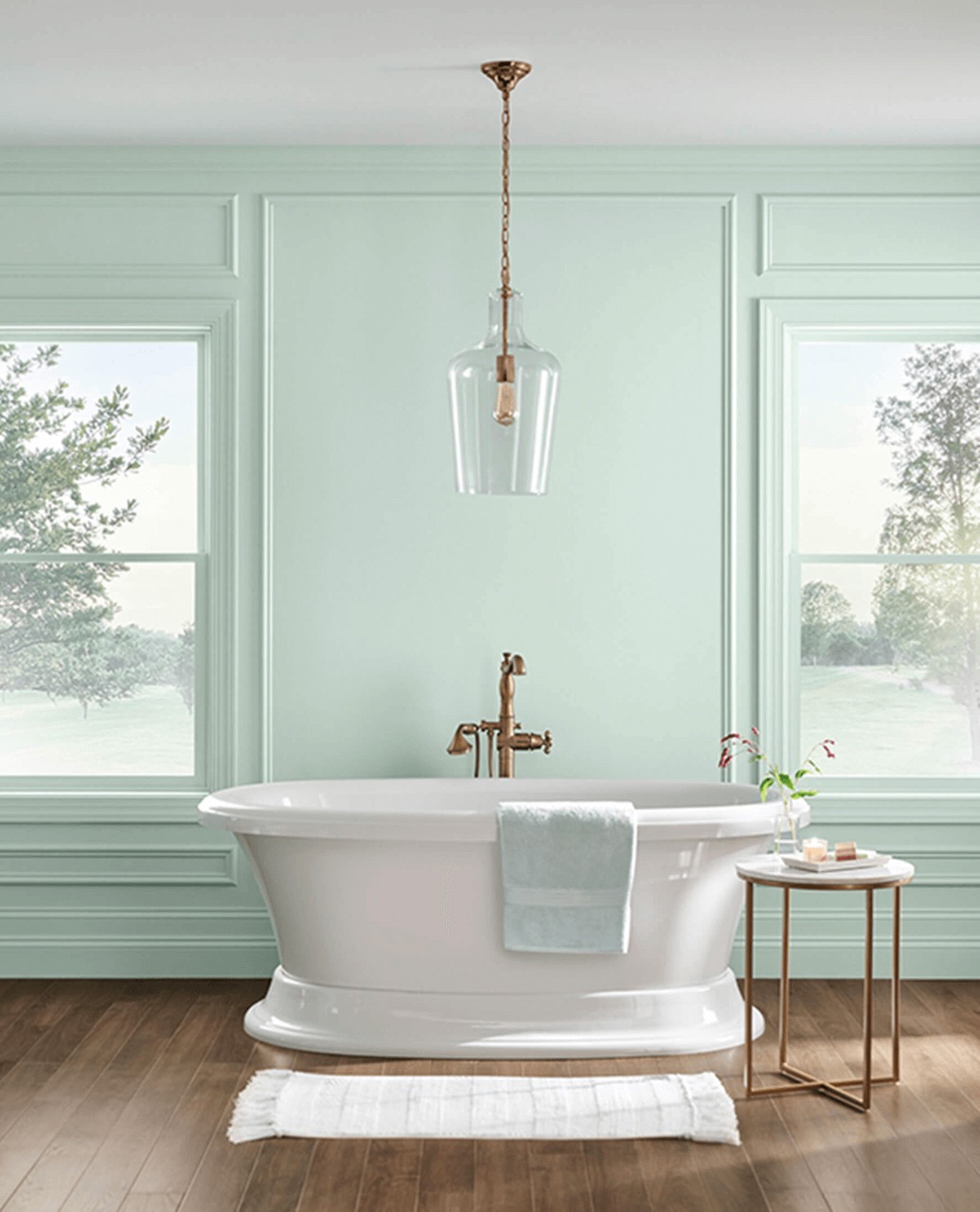 A bright, clear teal, Rainwater is crisp and clean. Use it to give spaces an invigorating splash of color.
6. Behr Surfer Green
Surfer Green brings the laid-back mood of the ocean with its aqua green vibe. Use in beach homes or to add casual flair.
7. Sherwin-Williams Tradewind
Tradewind is a gray-tinted teal that lightens rooms with its airy vibe. Use it in open, sunlit spaces that need soft hues.
8. Behr Irish Mist
With earthy green tones, Irish Moss creates an organic, relaxing look. Use in bedrooms or baths needing natural tranquility.
9. Benjamin Moore Blue Danube
Blue Danube is an adaptable teal with strong blue notes, suitable for traditional to modern spaces. Pair with crisp white for contrast.
10. Sherwin-Williams Mediterranean
A soft green-blue, Mediterranean conjures images of seaside vacations. Use it to whisk you away to the coast.
11. Behr Emperors Silk
With plush green undertones, Emperors Silk is a moody, luxurious teal. Use it in formal spaces and bedrooms needing cozy charm.
12. Benjamin Moore Oxford Blue
Oxford Blue is a classic deep green-blue. Let its collegiate sophistication raise the intellectual spirit of libraries or offices.
13. Behr Admiral Blue
A stately peacock navy with subtle teal undertones. Admiral Blue adds nautical interest to any space.
Benefits of Dark Blue Green Paint
Beyond just being beautiful, dark blue green paint offers many benefits for your home:
Promotes Relaxation
Dark blue greens are known for their calming, peaceful essence. The colors evoke thoughts of cool forests, gently lapping waves and serene landscapes. Dark teals create a soothing sanctuary to unwind in.
Adds Sophistication
While bright blues and greens pop, their darker blue green cousins offer refined elegance. The colors celebrate nature's beauty in hushed, subtle ways. Dark teals work in formal and casual settings alike.
Tranquil and Timeless
Dark blue green is a tranquil neutral that suits any style. Teals blend beautifully with woods, blacks, whites and other colors. They give spaces a polished, timeless look.
Brings Nature Indoors
Dark teals connect us to the natural world. They conjure images of pine needles, ocean coves and rain-dappled leaves. Dark blue greens help create a relaxing oasis at home.
Provides Contrast
With their bold complexity, deep teals naturally contrast whites, neutrals and lighter blues. Dark blue green makes an excellent accent color to add visual interest.
Best Rooms for Dark Blue Green
Certain rooms especially shine with the beauty of dark teal paint:
1. Bedrooms
Dark blue greens promote deep relaxation and sleep. Use teal on bedroom walls or as an accent wall behind the bed. White bedding prevents it from feeling too dark.
2. Living Rooms
In living spaces, deep teals add moodiness along with tranquility. Use on accent walls or front doors to welcome guests with style.
3. Bathrooms
Dark aqua paint brings the spa vibe into baths. Contrast with crisp whites for definition. Use teal on walls or vanities.
4. Dining Rooms
Forest greens and peacock teals make dining rooms feel elegantly intimate. Ground the rich colors with wood tables and a neutral rug.
5. Offices
Vivid teals promote focus and clarity in home offices. Pair with maple furniture and natural textures for an organic workspace.
6. Kitchens
Deep blue greens lend kitchens a fun, casual vibe. Use on an accent wall or island. Contrast with light cabinets and metals.
7. Nurseries
In kids' spaces like nurseries, soft dusty teals provide a soothing backdrop for play and sleep. Accent with bright colors.
8. Laundry Rooms
Energetic teals transform utilitarian laundry spaces. Contrast with crisp white cabinetry for an uplifting retreat.
Decorating with Dark Blue Green Paint
When using deep teal paint colors, keep these decorating tips in mind:
Choose the Right Undertones
Blue-green teals have prominent blue undertones for a bolder, cooler look.
Green-blue teals feature earthy green undertones for an organic, relaxing vibe.
Neutral teals expertly blend blue, green and gray for versatile sophistication.
Lighten Small Dark Rooms
In small spaces, stick to softer pastel teals so the room doesn't overwhelm. Dark teals can get brooding.
Use lighter teals like Behr Polynesian Green or contrast with white trim.
Accent with Metallics
Polished brass, chrome and nickel details pop against deep teals. Use metal lighting, hardware and decorative accents.
Aged bronze and copper also highlight teal's green notes beautifully.
Incorporate Natural Textures
Offset rich teals with natural materials like stone, wood, linen and jute. This prevents spaces from feeling too cold.
Rough wood furniture and stone tile add cozy contrast.
Showcase Artwork
From nature photography to abstract pieces, artwork makes a striking statement against a dark teal wall.
Floating wood frames painted white creates a crisp, curated look.
Using Dark Blue Green on Accent Walls
Accent walls are the perfect way to feature dark blue green paint. Teal adds dramatic style when used strategically on a single wall. Consider these ideas:
Living Room – Behind the sofa, paint a moody dark teal accent wall to create a sophisticated focal point. Use crisp white trim for definition.
Dining Room – On the wall behind the credenza or buffet, paint a rich peacock teal. Contrast with neutral walls.
Bedroom – As the headboard wall, choose a soothing pastel teal to promote relaxation. Use white bedding.
Office – To inspire focus, paint a teal accent wall behind your work desk. Choose an invigorating jewel-toned teal.
Bathroom – Behind the tub, paint a sea glass green accent wall. Contrast with light stone tile on the floors and shower walls.
Dark Blue Green Color Schemes
When pairing paint colors with deep teals, consider these classic combinations:
Dark Blue Green + Crisp White
For contrast and definition, white trims, ceiling, cabinetry and furnishings make teals sing. The bold and neutral balance beautifully.
Dark Blue Green + Walnut Wood
Rich walnut furnishings and floors feel organic against teal walls. Mid-century modern spaces shine with this sophisticated combo.
Dark Blue Green + Black
For modern edge, pair sleek black fixtures, accents and window trims with vivid teals. Crisp black-and-white photography also complements.
Dark Blue Green + Terracotta
Earthy terracotta floors, furnishings and art bring out the green undertones in teals. The colors celebrate rustic warmth.
Dark Blue Green + Gold Metallic
Gleaming brass, gold and copper lighting fixtures pop boldly against deep verdant teals. Luxe spaces shine with this glam yet organic pairing.
Choosing the Perfect Dark Blue Green
When selecting the ideal teal paint, consider:
Room lighting – Soft hazy teals suit dim spaces, while sunlit rooms can handle vivid jewel tones.
Room size – Deeper teals work best in larger rooms. Small spaces feel relaxing with light airy teals.
Existing décor – If warm woods dominate, choose greener teals. With cool grays or whites, bluer teals complement more.
Personal taste – Do you prefer traditional schemes or modern color contrasts? Greens suit the former, blues the latter.
Mood – Dark midnight teals feel quietly elegant. Vibrant turquoise shades are energetic and fun.
No matter your goals, view real paint swatches in the room before deciding. Teals shift in different lighting. Finding the perfect match is key.
Frequently Asked Questions
Here are answers to common dark blue green paint questions:
What colors complement dark teal paint?
Crisp whites, beiges, rich walnut woods, aged bronze and bright white trims all contrast beautifully with deep teals. Black and white photography also complements.
What rooms work best with dark teal walls?
Bedrooms, living rooms, home offices, kitchens and bathrooms are ideal for teal walls. Strategic use on accent walls lends drama anywhere.
Is dark teal paint relaxing?
Yes, the soothing oceanic quality of dark blue greens promotes relaxation in bedrooms, baths and living spaces. Pastel teals relax best in tight quarters.
Does teal work in bright sunny rooms?
In bright spaces, vivid jewel-tone teals with ample contrast hold their own. For sunlit rooms preferring softness, choose hazy blue-green shades.
What sheen works best for teal walls?
It depends on the room. Eggshell finishes provide subtle glows, satin offers durability while matte minimizes imperfections. Use glossy sheens sparingly on trims.
Summary
With their soothing aqua beauty and organic elegance, dark blue green paint colors make an alluring choice for creating a relaxing yet stylish home. Whether you gravitate toward bold peacock teals or prefer soft misty sea glass shades, the 13 options presented offer versatile ways to incorporate this nature-inspired neutral. Just remember to balance richness with light and natural textures, viewing real swatches to find your perfect dark blue green.