Dusty blue paint colors mix gray with blue for beautifully weathered hues full of depth and dimension. Ranging from faded robin's egg to charcoal navy, these complex colors add old-world charm when used thoughtfully.
If you love antique worn blues, here are18 gorgeous dusty blue paint colors to inspire your next design project.
What Makes Dusty Blues Such Dimensional Paint Colors?
Dusty blues skillfully blend blue pigment with tones of gray, brown or taupe to craft multi-faceted hues that look intriguingly aged and timeworn. The softened effect makes them widely versatile.
Unlike primary blues, dusty blues have natural depth and texture. Their weathered patina adds cozy antiquity to both modern and traditional spaces.
These muted shades range from bright pastels aged by time to deeper, brooding navy blues. All dusty blues share a sense of being gently worn-in like a favorite vintage jacket.
If you want a dimensional blue with timeless gravitas, yet none of the harshness of bold primary blues, dusty blue is the perfect choice. Keep reading for 18 beautiful options!
18 Gorgeous Dusty Blue Paint Colors
Here are the most popular dusty blue paint colors from top brands like Benjamin Moore, Sherwin Williams and Behr:
A soft weathered blue gray named after the mist that drifts over lakes on chill mornings. Sets a peaceful lakeside scene.
1. Benjamin Moore Wythe Blu
A versatile colonial blue gray with hints of green, perfect for traditional homes or heritage spaces.
2. Sherwin Williams Online
A comfortably muted blue with subtle green undertones. This refined hue lightens up any space with its faded patina.
3. Behr Blueprint
A cooler toned gray blue that brings a touch of modernity. Use its dusty patina in contemporary rooms seeking softness.
4. Benjamin Moore Heather Blues
A romantic antique mauve-gray that reads as faded green thanks to blue undertones. Use in bedrooms and dining rooms.
5. Sherwin Williams Rainwashed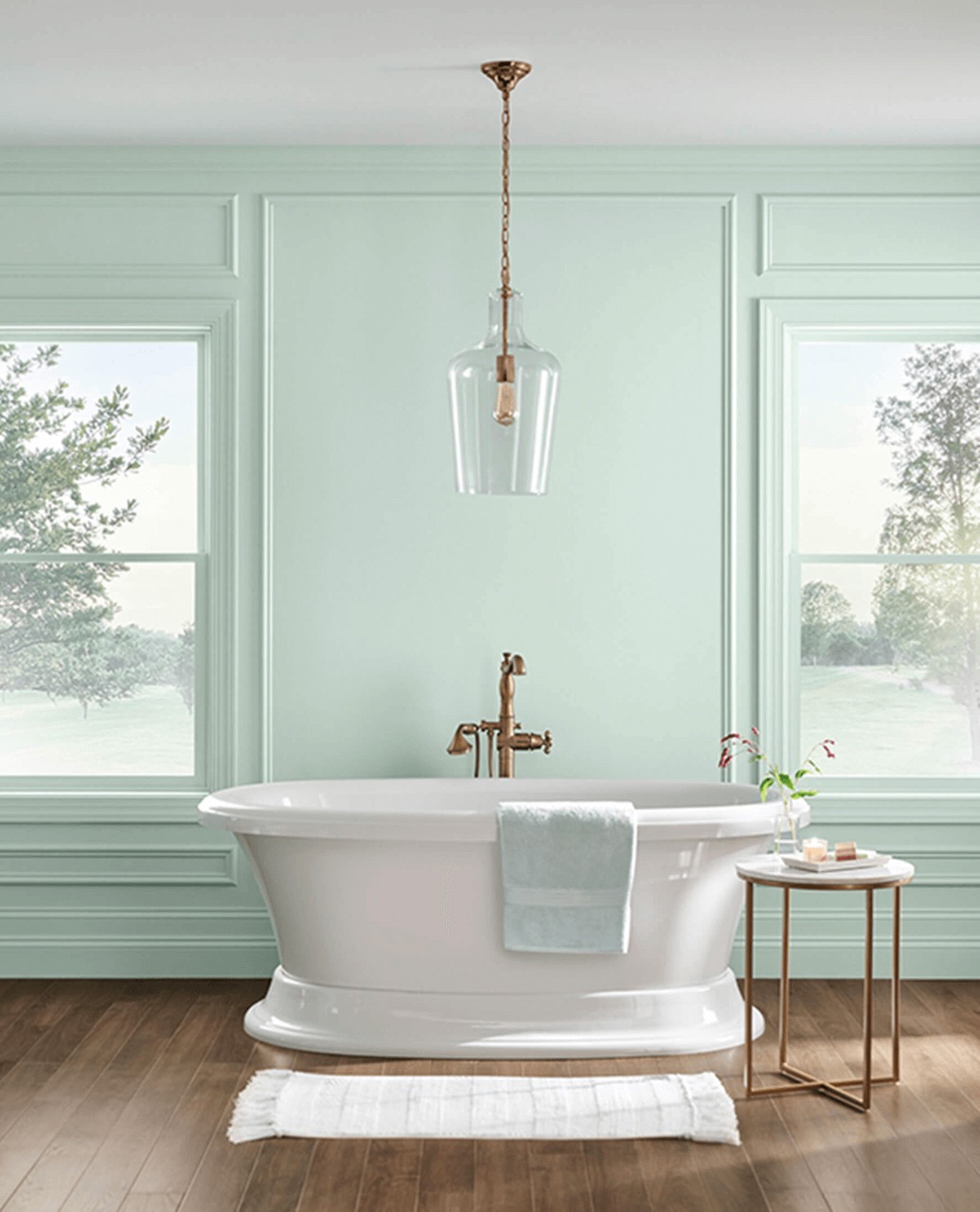 A calming sage green gray fusion with a weathered dusty patina. Its uniqueness relaxes the spirit.
6. Behr Silver Drop
Barely-there blue with a weathered patina, like paint faded after years in the sun. Softens any room with cottage charm.
7. Benjamin Moore Stonington Gray
A faded gray green with a wispy browned patina reminiscent of weathered shoreline cottages.
8. Behr Silver Screen
A softened robin's egg blue with a kiss of green, delicately weathered like vintage movie theater wallpaper.
9. Benjamin Moore White water
A clean faded blue recalling sun-bleached whitewater rapids. Use its dusty vibrance in bathrooms or kitchens.
10. Sherwin Williams Sea Salt
A bestselling dusty blue green gray with a weathered driftwood appearance. Perfect for laidback rooms.
11. Sherwin Williams Rain
A calming, antiqued sage green gray fusion reminiscent of spring rains renewing the landscape.
12. Behr Lilac Fields
A romantic antique mauve recalling English cottage gardens, its blue undertones read as hazy green.
13. Benjamin Moore Horizon
A retro powder blue faded by time and elements like well-loved beach cabana stripes. Cheerful in any room.
14. Benjamin Moore Palladian Blue
A delicately faded pastel blue gray that lends a romantic, timeworn patina. Use in bedrooms or studies.
15. Sherwin Williams Mindful Gray
A calming dusty gray with hints of green and blue. Its weathered uniqueness promotes mindfulness.
16. Behr Silver Drop
The softest touch of blue smoothed into putty gray, weathered like an antique cedar bench left in the garden.
17. Benjamin Moore Abalone
A unique faded teal reminiscent of the inside of polished abalone shells. Lends a global traveler vibe.
18. Behr River Pebble
A faded cool gray blue with hints of green, softly weathered as river rocks. Lends any room an organic earthiness.
As you can see, there's an incredible range of dusty blue paint colors to give your home antique character and depth! Keep reading for pro decorating tips.
Benefits of Dusty Blue Paint
In addition to their beauty, dusty blue interior paint colors offer many perks:
Relaxing – Softened blues have an inherently calming effect that soothes away stress.
Timeless Appeal – Dusty blues work in modern and traditional spaces thanks to their vintage patina.
Cozy and Inviting – Weathered dusty blues feel broken-in, never stark or sterile. Rooms feel comfortably lived-in.
Dimension – Complex dusty blues prevent spaces from looking flat and dull. Their undertones add natural depth.
Texture – Unlike solid blues, dusty shades have subtle blurred edges with visual texture that attracts the eye.
Versatile Neutral – From blue gray beiges to faded aquas, dusty blues complement most other colors.
Clearly dusty blue paint has benefits beyond just aesthetics. But which rooms gain the most from these dimensional hues?
Best Rooms for Dusty Blue Paint Colors
Here are the rooms perfectly suited to sophisticated dusty blues:
Cozy Bedrooms
Soft weathered blues like faded denim or robin's egg promote relaxation. Use on accent walls or full room.
Rustic Dining Rooms
French or heritage gray blues suit formal dining rooms, especially those with reclaimed wood elements.
Refined Studies
Use antique aquas or navy in home offices to promote focus without starkness.
Timeworn Bathrooms
Powdery vintage blues bring charm to bathroom walls and cabinetry without feeling too bold.
Relaxed Living Rooms
Airiness of pale weathered blues keeps living rooms feeling calmly uplifted. Navy accents add contrast.
Vintage Kitchens
Muted aged blues complement distressed kitchen cabinets and reclaimed wood counters beautifully.
In addition to full rooms, dusty blues make striking accent walls too. Now let's explore creative decorative ideas.
Decorating With Dimensional Dusty Blue Paint
When working dusty blue into your design, keep these tips in mind:
Contrast with bright white trims, ceilings, cabinetry and furnishings to keep dusty blues from feeling drab.
Layer in natural textures like linen, jute and reclaimed wood to enhance the vintage vibe.
Choose matte finishes rather than glossy paints, which can detract from the muted weathered patina.
Look for antique finishes in lighting and hardware like oxidized bronze, oil-rubbed bronze, or unlacquered brass.
Pair dusty blues with antique or distressed area rugs and accent furniture to cultivate old-world charm.
Accentuate the faded look with artwork prints that mimic antique sepia photographs, typography or botanical sketches.
Using Dusty Blues Creatively on Accent Walls
Looking for a subtle antique touch? Dusty blues beautifully accent a single wall. Some inspiring ways to do this:
A calming weathered periwinkle accent wall behind the bed fosters relaxation.
Vintage slate blue or gray in a home office provides an aura of heritage sophistication.
Softly faded robin's egg blue dining room accent wall to provide uplifting contrast while enjoying meals.
Aged brick or French blue on a reading nook wall surrounded by wood shelves and leather chairs.
Washed out denim blue bathroom accent wall contrasting with bright white wainscoting and tub.
Navy accent wall behind a TV or media console to set the mood for immersive movie watching.
Now that you have accent wall inspiration, let's look at pleasing dusty blue color schemes.
Sophisticated Color Combinations For Dusty Blue Paint
While versatile dusty blues complement most colors tastefully, these are especially pleasing combinations:
Crisp White
Fresh white trims, moldings, furniture and linens keep dusty blues from feeling overly weathered.
Reclaimed Wood
Aged oak, pine and barn wood finishes boost dusty blues' vintage vibe.
Antique Metallics
Oil-rubbed bronze, unlacquered brass and aged iron lighting fixtures and hardware enrich dusty blues with burnished warmth.
Earthy Terracottas
Natural clay pottery, tiles and furnishings root dusty blues in organic harmony.
Charcoal Grays
Different shades of weathered dusty blue and gray cultivate an antiqued color story.
Mossy Greens
Deep sage and forest mossy greens provide lively contrast to soften muted blues.
Choosing the Perfect Dusty Blue Paint
With so many weathered blue shades available, consider these factors:
Room Use – Stimulating brightened dusty blues for work, muted tones for relaxation.
Existing Features – Test paint samples against furnishings to ensure coordinated dusty blues.
Color Pairings – Complementary beiges, whites, browns and grays prevent overwhelming.
Room Size – Deeper navy dusty blues suit spacious rooms. Lighter dusty blues maximize small rooms.
Design Style – French blues for formal spaces, gray blues for modern lofts, seafoam aquas for cottages.
Go with your instinct! Choose a dusty blue hue that stirs up the desired ambiance for your space.
Dusty Blue Paint Color Frequently Asked Questions
Here are quick answers to common dusty blue paint questions:
What colors complement dusty blues?
Dusty blues look gorgeous with clean whites, light woods, weathered browns, charcoal grays, mossy greens and metallics like bronze and copper.
What are some rejuvenating shades of dusty blue?
Vibrant robin's egg blues, periwinkle blues and brighter sky blues maintain a weathered patina while also energizing.
What are some relaxing dusty blue paint colors?
The softest faded denim blues, ragged antique navy blues, hazy slate blues, and chalky light French blues have a calming vibe.
How do you choose between warm or cool dusty blues?
Cool dusty blues have purple, green or gray undertones. Warmer dusty blues take on brown, tan, beige or taupe undertones for a cozier look.
What dusty blue paint finish works best?
Matte or eggshell finishes enhance the worn, aged patina. Satin offers subtle sheen while minimizing glare. Glossy trim pops against dusty walls.
Final Takeaways on Decorating With Dusty Blues
With their timeworn sophistication and welcoming texture, dusty blue paint colors give any space a comfortably lived-in feel with just the right amount of intriguing dimension. Refer to this guide when planning to infuse rooms with antique cottage charm using the18 beautiful dusty blues presented here. Trust your instincts, and relax into choosing your perfect nuanced hue.