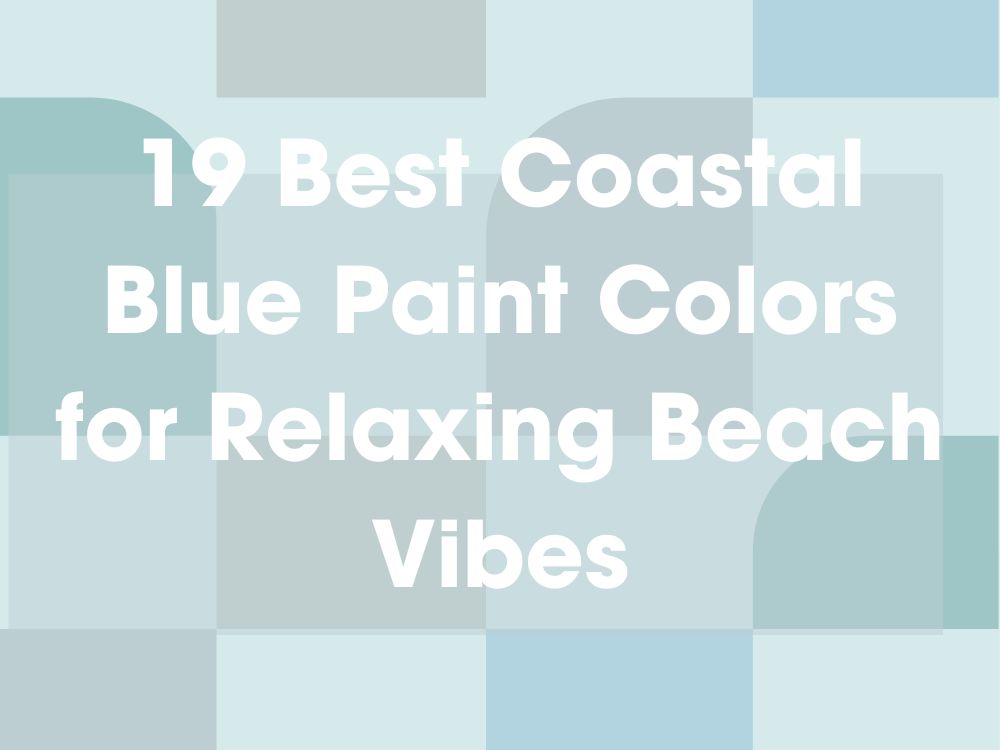 blue aint colors effortlessly capture the breezy, easygoing vibe of life by the ocean. Ranging from soft aquas to bold teals, these aquatic hues work beautifully in beachy casual spaces as well as elegant rooms.
If you're seeking to bring coastal style into your home through paint, here are 19 beautiful beachy blue colors to inspire your next project!
What Makes Coastal Blues Such Relaxing Paint Colors?
With depths ranging from pale and breezy to vibrant and bold, coastal blues beautifully evoke the sea. These qualities make them ideal for laidback spaces:
Soothing – Cool aquas and muted teals conjure images of lapping waves and sandy shores to instill deep relaxation.
Inviting – Coastal blues lend interiors a casual, welcoming charm reminiscent of beloved beach vacations and cottages.
Timeless – While inherently casual, soft blue greens and aquas suit traditional and modern beach homes alike.
Masculine – Bolder teals and navy blues work well in men's casual spaces like dens and bachelor pads.
Uplifting – Surrounding yourself with coastal blues boosts feelings of happiness and contentment. The colors lighten both mood and design schemes.
Versatile – From pale seafoam to rich teal, coastal blues complement most casual color combinations.
Now let's dive into 19 beautiful coastal blue paint colors across leading brands!
19 Relaxing Coastal Blue Paint Colors
Here are the most popular beachy blues from Benjamin Moore, Sherwin Williams, Behr and more:
1. Sherwin Williams Oceanside
A soft cool gray with hints of green, beautifully evocative of misty seaside mornings.
2. Benjamin Moore Whispering Surf
A delicately soft sage blue named after the soothing sound of lapping waves. Perfect for spa-like spaces.
3. Sherwin Williams Raindrop
A serene combination of gray, blue and green. Mimics the translucent look of beach glass worn smooth by the tide.
4. Behr Tradewind
A versatile breezy blue green that brightens up casual living areas with its easygoing energy.
5. Benjamin Moore Heather
A romantic mauve gray that reads as soft green thanks to blue undertones. Lovely in bedrooms and dining rooms.
6. Sherwin Williams Sea Salt
A bestselling blue green gray with a breezy beachy vibe. This laidback neutral complements coastal cottages.
7. Benjamin Moore Beach Glass
As the name suggests, a seafoam green reminiscent of sea glass. Evoke restful memories of beachcombing.
8. Sherwin Williams Rainwashed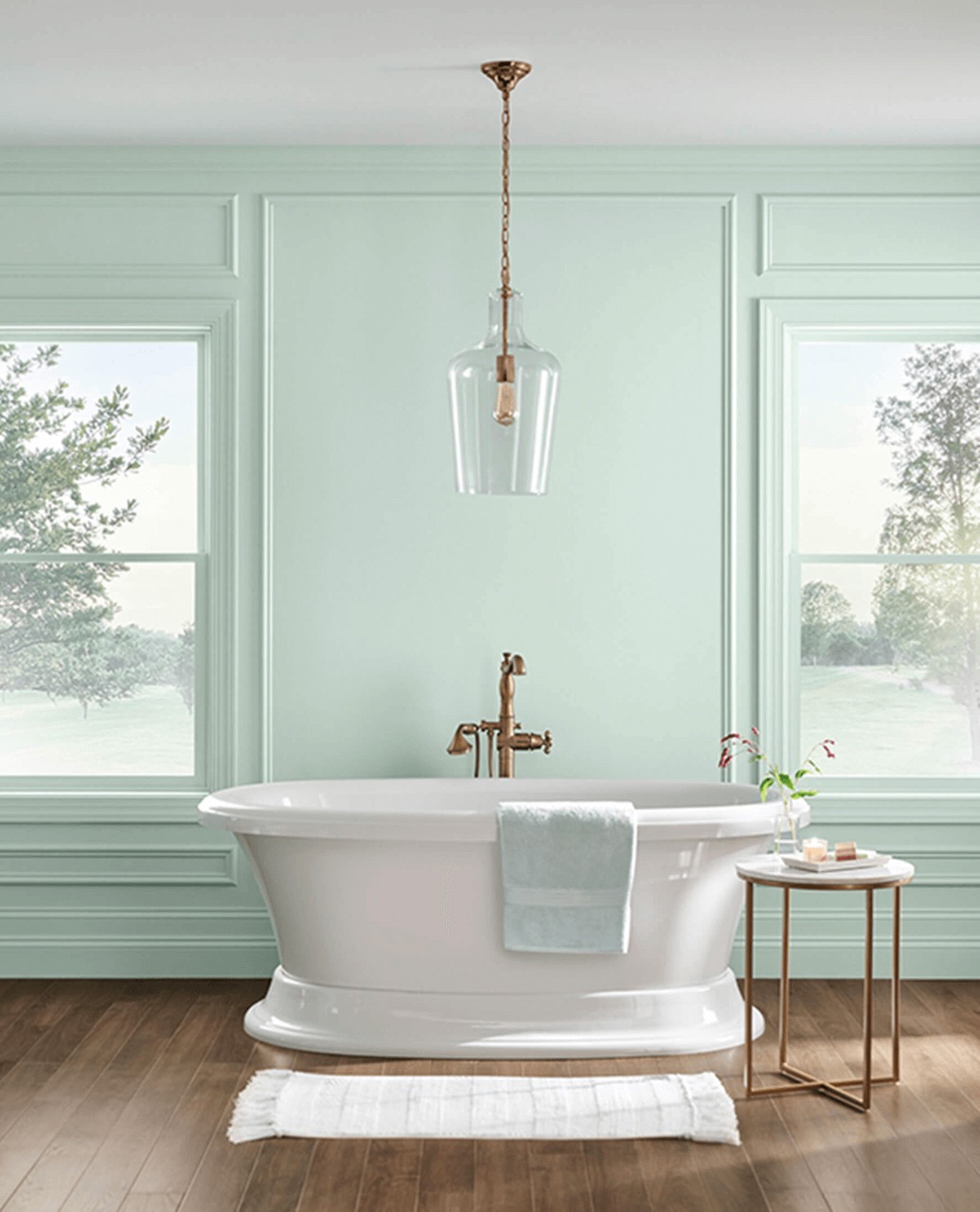 A calming sage green with hints of blue to conjure images of ocean showers. Let it wash stress away.
9. Behr Cloudy Day
A soft green blue that captures the essence of relaxing oceanside afternoons full of salt air and possibilities.
10. Benjamin Moore Harbor Haze
A soothing gray blue named after the ocean mists that drift through lively harbors at dawn.
11. Sherwin Williams Online
A versatile, lush blue green that gracefully brings together the colors of sea and sky.
12. Behr Blue Stream
A tranquil oceanic blue green that instantly whisks you away to a serene seaside retreat.
13.Benjamin Moore Rainstorm
A clean gray green reminiscent of passing ocean storms. Its freshness refreshes the spirit. Use in bathrooms.
14.Benjamin Moore Sea Life
A vibrant teal blue reminiscent of tropical atolls where the real action is underwater. Makes a lively statement.
15. Benjamin Moore Hidden Sapphire
A dramatic navy blue that adds striking sophistication to coastal spaces with its green undertones.
16. Benjamin Moore White Heron
Despite the name, this is a beautifully pale seafoam that cultivates an airy, relaxed coastal cottage vibe.
17. Sherwin Williams Gentle Aquamarine
A jewel-toned teal boldly inspired by sunny tropical waters full of life. Make a vibrant statement with this hue.
18. Behr Harbor Mist
A breezy, relaxed muted teal that conjures lazy days boating on the bay or strolling the harbor.
19. Benjamin Moore Sea Haze
The most relaxing grayed-out teal reminiscent of blue ocean waters on an overcast day.
Benefits of Coastal Blue Paint Colors
In addition to their inherent beauty, coastal blue paint colors offer many advantages:
Relaxation – Aquas and muted teals are intrinsically peaceful. They promote rest in bedrooms and spas.
Welcomes Guests – Coastal blues lend any entryway or living area a casual, beachy charm.
Stimulates Appetite – Blue tones are known to increase enjoyment of food. Use aquas in dining rooms or kitchens.
Honors Coastal Heritage – For seaside residents, coastal blues proudly celebrate regional heritage and architecture.
Inspires Travel – Surrounding yourself with beachy blues allows you to tap into vacation vibes without leaving home.
Uplifts Mood – Powdery aquas and soft teals have a gentle energizing effect that boosts happiness.
Best Rooms for Coastal Blue Paint
Here are the spaces perfectly primed for breezy, beautiful coastal blues:
Beach House Bedrooms
Soft aqua walls or accent walls set the stage for restful sleep against a backdrop of lulling waves.
Casual Dining Rooms
Use airy teals and seafoams to lend laidback flair to family dining spaces meant for fun gatherings.
Relaxing Bathrooms
Paint powder rooms, bathtubs and showers in serene aquas for an indulgent, spa-like feel.
Rustic Kitchens
Neutral blue greens beautifully balance reclaimed wood cabinets and accents for the ultimate coastal kitchen.
Beach Cottage Living Rooms
Paint tired living rooms in misty aquas or teals to rejuvenate the spirit and honor coastal heritage.
Sunrooms & Porches
Capture the essence of atmospheric oceanside porches right inside with breezy blue accents.
In addition to full rooms, don't overlook the power of a strategically placed coastal blue accent wall. Now let's get creative with decorator tips and ideas.
Decorating With Soothing Coastal Blues
When working coastal blues into your home, keep these design principles in mind:
Incorporate lots of light woods, especially weathered oak, cedar and birch to enhance the organic vibe.
Accent walls with antique maps, driftwood art, and framed sea specimens like starfish and shells.
Choose furnishings and accents in complementary textures like denim, jute, linen and cotton for a casual feel.
Opt for whitewashed floors and ceilings to keep the attention on vibrant coastal blue walls.
Blend complementary aquatic colors like seafoam greens, sky blues and navy for a unified palette.
For pop of contrast, bring in sun washed yellows reminiscent of beach umbrellas dotting the shore.
Using Coastal Blues Creatively on Accent Walls
Looking for a subtle coastal touch? Use it tactfully on one accent wall. Some creative ways to do this:
A soft muted teal accent wall in the bedroom to evoke restful oceanside sunsets.
Vibrant aqua behind a credenza or table to energize dining and living spaces.
Weathered blue green planked walls in bathrooms to recreate the vintage seaside cottage vibe.
Rich navy on the home office accent wall to add soothing focus and authority.
Cheerful retro mint green or airy seafoam in the reading nook to unwind with books.
Soothing Coastal Color Schemes
While versatile coastal blues suit most colors, these combinations truly amplify the breezy ocean vibe:
White on White
Crisp clean white trims, furniture and linens keep aqua or teal walls the star.
Driftwood Browns
Muted driftwood brown furniture and wood floors boost coastal blues' beachy charm.
Sea Glass Greens
Shades of seafoam green and aqua blue complement each other beautifully.
Sandy Tans
Warm, weathered tans evoke the beach against cool blues. Try in sunrooms or porches.
Sunny Yellows
Pops of daisy yellow resemble cheerful beach umbrellas and towels against aqua walls.
Navy Accents
Use rich navy on trims or furnishings to ground bright teal walls with depth.
Choosing the Perfect Coastal Blue Paint
With countless shades available, consider these factors when selecting blue for your coastal space:
Room Size – Bold teals suit spacious rooms. Softer aquas maximize smaller rooms.
Use – Energizing aquas for casual dining rooms, muted teals for relaxation in bedrooms.
Region – For New England, try greener blue grays. For tropical vibes, opt for brighter aquas or teals.
Existing Features – Test out paint swatches against furnishings to ensure coordinating blues.
Style – Sage aquas for vintage bungalows, robin's egg blue for beach cottages, pale teal for coastal manors.
Go with your gut! Choosing a favorite shade of beachy blue is sure to breathe new life into your coastal design.
Coastal Blue Paint Color Frequently Asked Questions
Here are answers to the most common queries on decorating with coastal blues:
What colors work well with coastal blues?
Coastal blues shine alongside crisp whites, weathered wood tones, sandy beiges, pops of sea glass greens and sunny yellows. Navy and teal accents also complement lighter aqua walls.
How do you pick the right intensity of coastal blue?
Take room size and desired atmosphere into account. Deeper teals make bold statements in spacious rooms. Soft seafoam blues relax in smaller rooms.
Which sheen of paint best showcases coastal blues?
Flat or eggshell finishes reflect less light, ideal for darker coastal navy walls. Satin and semi-gloss offer some sheen while minimizing glare. Gloss trim pops.
Do coastal blues work in rooms without much natural light?
Absolutely. Deeper shades of teal and navy make stunning bold statements even in low natural light rooms when balanced with ample crisp whites.
How does one create a coastal cottage look with paint?
Opt for weathered cooler blue grays, faded teals or very pale aqua greens. Accent with neutral whites and soft beiges for timeless vintage charm.
Final Takeaways on Decorating With Coastal Blues
With their casual relaxation and free-spirited maritime vibe, coastal blue paint colors make any space feel happily lived-in and full of possibility. Refer to this guide when seeking inspiration for giving rooms a breezy, uplifting makeover with soft aquas or vivid teals. Trust your color intuition and refresh your home with the beauty of the sea!