Blue gray paint colors blend blue and gray to create beautifully sophisticated hues that work in nearly any room. Ranging from cool and icy to warm and cozy, blue grays are versatile neutrals that add subtle depth.
If you love blue grays, here are 20beautiful paint colors to consider across many shades and tones.
What Makes Blue Gray Such a Flexible Paint Color?
Blue gray paint skillfully combines blue and gray pigments to craft complex, gorgeous hues. The amount of blue vs gray varies, resulting in different undertones and aesthetics.
Unlike stark grays or bold blues, blue grays have natural depth and dimension. Their inherent sophistication makes them suitable for diverse design styles and rooms.
Blue grays effortlessly span the spectrum from crisp and chic to soft and soothing. Lighter shades feel airy and bright, while darker hues get moody and cozy.
If you want a refined neutral with character, blue gray is the perfect choice. Keep reading for 20beautiful blue gray paint colors to inspire your home's next makeover!
20 Best Blue Gray Paint Colors
Here are the most popular blue gray paint colors from leading brands like Benjamin Moore, Sherwin Williams and Behr:
1. Sherwin Williams Online
A lush, refined blue gray blending cool and warm undertones. It creates an elegant yet approachable look.
2. Benjamin Moore Palladian Blue
A soft pastel blue gray perfect for bedrooms, studies and relaxing spaces. Its lightness keeps the mood airy.
3. Sherwin Williams Rain
A calming, watery blue gray resembling a gentle rainstorm. Ideal for spa-like bathrooms and serene bedrooms.
4. Behr Blueprint
A cool medium blue gray that energizes modern living spaces with its crisp, contemporary vibe.
5. Benjamin Moore Horizon
A gorgeous bright blue gray that mimics the distant meeting of sea and sky. It opens up any small space.
6. Sherwin Williams Sea Salt
A popular, breezy blue gray with a beachy feel. This laidback neutral suits coastal bedrooms and baths.
7. Behr Harbor 520F-5
A cooler, green-gray reminiscent of misty ocean harbors. Use to cultivate a relaxed, seaside cottage atmosphere.
8. Benjamin Moore Gray Owl
A bestselling grey with subtle brown undertones. This versatile, elegant neutral complements traditional and modern decor alike.
9. Sherwin Williams Rainwashed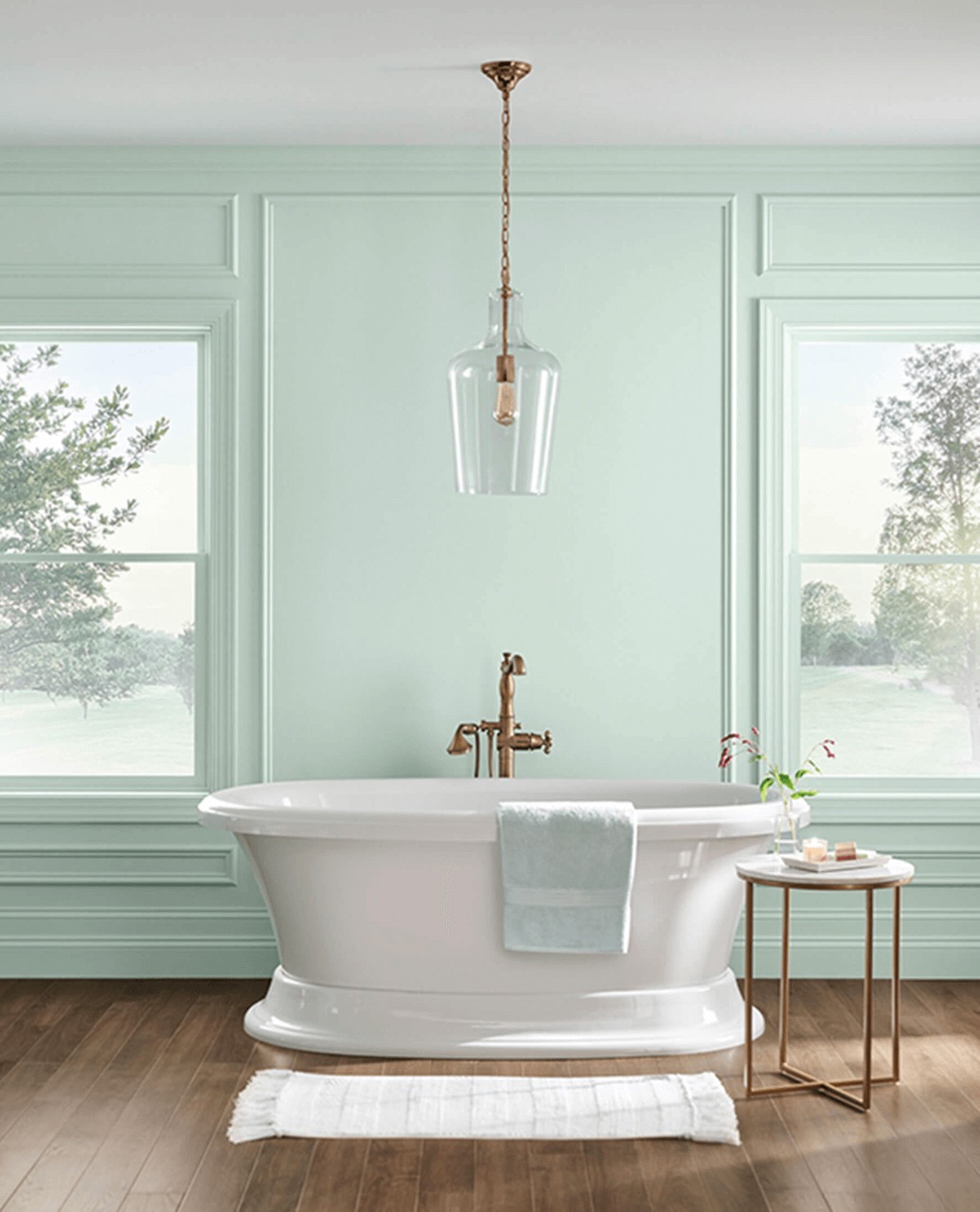 A soothing, soft sage gray with hints of blue and green. Let this spa-like hue wash away stress.
10. Behr Silver Drop 790C-2
A light, barely-there blue gray adding a touch of sophistication without overwhelming. Lovely in bedrooms and living rooms.
11. Benjamin Moore Glacier Lake 867
The quintessential cool gray with subtle blue-green undertones. Use it to create a crisp, icy modern look.
12. Sherwin Williams Mindful Gray
A calming, relaxed gray with a hint of blue. It cultivates mindfulness and tranquility in bedrooms, spas and studios.
13. Behr Windmill Wings
A dynamic, changeable blue gray that shifts between warm and cool tones. Pairs beautifully with natural wood.
14. Benjamin Moore Gray Cashmere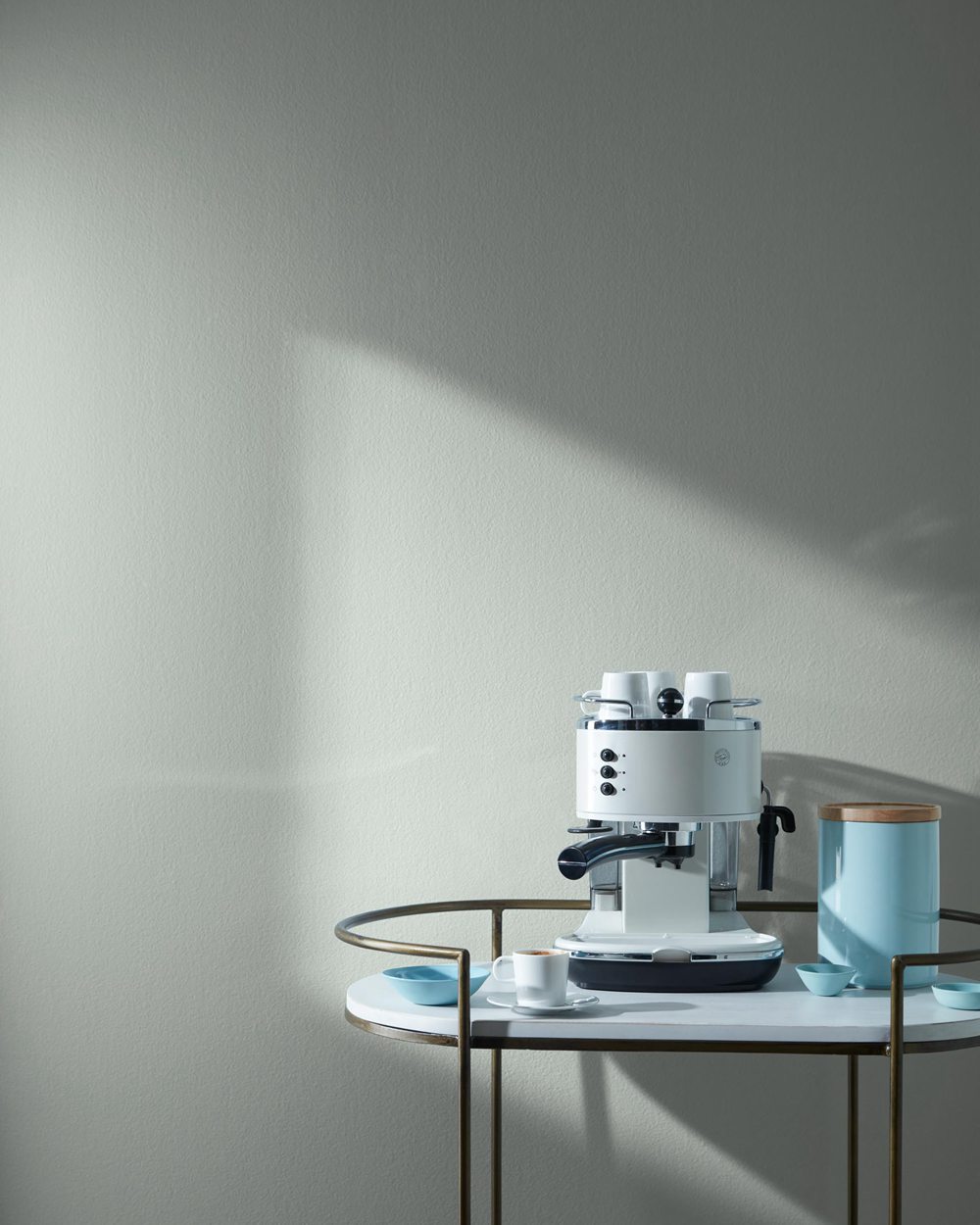 A luxurious, warm gray with subtle taupe notes. Use it to add understated drama to formal living spaces.
15. Sherwin Williams Repose Gray
A popular, versatile light gray with hints of blue and green. It keeps rooms feeling bright and spacious.
16. Benjamin Moore Lancaster Whitewash
A light French blue gray washed with white glaze for a weathered, vintage look. Use it to add cottage charm.
17. Benjamin Moore Heathers
A romantic, dusty mauve-gray with blue undertones, lovely in bedrooms and formal dining rooms.
18. Sherwin Williams Naval
A darker navy blue gray that adds nautical flair. Use in bathrooms, dens and beachy bedrooms.
19. Benjamin Moore Edgecomb Gray
A greige blue gray with subtle brown undertones. This cozy neutral complements traditional and modern styles.
20. Sherwin Williams Watery
A serene, refreshing blue gray evocative of sun showers and tropical waters. Perfect for spa bathrooms.
With endless beautiful options, it can be hard to choose just one favorite blue gray paint color. Keep reading for expert tips on decorating with these sophisticated hues.
Benefits of Blue Gray Paint
Beyond just looking attractive, blue gray interior paint colors offer many advantages:
Soothing – Blue grays promote relaxation and tranquility with their cool, calming undertones.
Versatile – Blue grays work in any room as sophisticated neutral backdrops that don't fight other colors.
Mood Lifting – Blue tones have been shown to boost mood and motivation levels.
Intellectual – The complexity of blue grays stimulates the mind and aids concentration.
Traditional – Blue grays with gray undertones have an elegant, timeless appeal perfect for formal spaces.
Spatial Illusion – Soft blue grays can make small rooms feel more open and airy.
Clearly blue gray paint has benefits beyond just beauty and visual appeal. But which rooms gain the most from blue gray hues?
Best Rooms for Blue Gray Paint Colors
Here are the rooms perfectly suited to sophisticated blue grays:
Calming Bedrooms
Serene blue grays promote relaxation and sleep when used on bedroom walls or accent walls. Avoid brighter shades that energize.
Focused Home Offices
The intellectual nature of blue grays aids concentration and focus in home offices. Deeper hues also convey authority.
Laidback Living Rooms
Blue grays strike an ideal balance between energizing and soothing in living rooms. They keep the mood upbeat but relaxed.
Soothing Bathrooms
Watery, spa-like blue grays turn bathrooms into relaxing escapes. Contrast with white tiles and fixtures for a fresh, clean look.
Stylish Dining Rooms
Soft blue grays like glacier or French blue grace dining rooms with refined elegance perfect for entertaining.
Bright Nurseries
Sweet pastel blue grays keep nurseries feeling cheerful and comfortable without overly stimulating young children.
In addition to full rooms, blue grays make striking accent walls too. Now let's get into the fun part – decorating!
Expert Tips for Showcasing Sophisticated Blue Gray Paint
When working with shades of blue gray, keep these design tips in mind:
Paint ceiling and trim crisp white to contrast blue gray walls.
Incorporate reclaimed wood furniture and rustic textures for an organic feel.
Hang mirror accents to reflect more blue gray color around the room.
Choose warm metal finishes like antique bronze and oil-rubbed bronze for lighting and hardware.
Layer in ivory, cream and camel hues through upholstery and linens to soften the coolness.
Bring in pops of contrasting orange, yellow or red through flowers, pillows and art.
Mix complementary light and dark blue grays to add visual interest through shading.
Using Blue Gray Creatively on a Stunning Accent Wall
Looking to incorporate blue gray without overdoing it? Use it strategically on an eye-catching accent wall. Some ideas:
A spa-like pale blue gray wall behind the tub for a relaxing oasis effect.
Bold navy blue gray behind the bed for intimate, cocooning drama.
Soft heathered blue gray reading nook to promote imagination and tranquility.
Vibrant blue gray home office wall to stimulate focus while working.
A bright airy blue gray dining room wall to lift the mood for meals.
Dark cinema blue gray behind the TV to set the perfect movie-watching mood.
Now that you have some accent wall inspiration, let's explore classic blue gray color schemes.
Sophisticated Color Combinations For Blue Gray Paint
While versatile blue gray complements most colors, these are especially pleasing schemes:
Crisp White
White trim, crown molding, furniture and accents make blue gray walls pop. A foolproof combination.
Warm Wood Tones
Golden oak, walnut and reclaimed wood finishes ground blue grays in natural charm.
Shades of Green
Sage, seafoam and mint greens complement blue gray's subtle aquatic vibe.
Chocolate Brown
Rich chocolate wood stain accents provide cozy contrast against cool blue grays.
Pops of Yellow
Bursts of sunshine yellow enliven somber blue grays and tie spaces together.
Metallic Silver
Polished silver fixtures and accessories play up icy blue gray undertones with modern flair.
Choosing the Perfect Blue Gray Paint Color
With so many blue gray shades available, keep these tips in mind:
Room Size – Dark bold blue grays suit spacious rooms. Soft hues keep small rooms feeling airy.
Natural Light – Darker blues work in bright sunny rooms, while pale blues illuminate dim interiors.
Room Use – Stimulating bright blues aid productivity. Restful lighter blues relax and unwind.
Design Style – Green-gray has an organic look. Purple-gray is traditional. True blue-grays are versatile.
Undertones – Grayish blues are refined. Greenish blues feel relaxing. Brownish blues are cozy.
Furnishings – Test blue gray paint chips next to existing upholstery before making final selections.
When in doubt, trust your instincts! The right blue gray will bring out the desired atmosphere for your space.
Blue Gray Paint Color Frequently Asked Questions
Here are answers to some common blue gray paint color questions:
What colors complement blue gray?
Blue gray looks beautiful paired with crisp whites, warm wood tones, contrasting yellows and greens, charcoal grays, and different hues of blue.
What are some energizing shades of blue gray?
Bolder aquas, bright sage greens, and vibrant blue grays create an energizing environment. Deeper blue grays tend to have a relaxing effect.
What are some relaxing blue gray paint colors?
On the softer side, try pale powder blue gray, frosted blue gray, mauve-gray, weathered blue gray, or soft green-gray for maximum tranquility.
How do you choose between warm or cool blue grays?
Cool blue grays have strong blue or green-blue undertones. Warmer blue grays feature subtle brown, taupe, or greige (gray-beige) undertones for a cozier vibe.
What blue gray paint finish looks best?
It depends on the room! Eggshell and satin offer subtle sheen while still being wipeable and durable. Matte minimizes reflections. Gloss provides bold crisp definition on trim.
Final Thoughts on Decorating With Blue Gray Paint
凭借其绚丽的色调,蓝灰色油漆颜色轻松地为任何空间注入精致的精致感。当您需要灵感来打造轻松、活泼、明亮或喜怒无常的静居时,请参阅本指南,其中包含 20 种美丽的蓝灰色。通过正确的色调和准备,蓝灰色总能为您的生活空间增添瞬间永恒的美丽和个性。